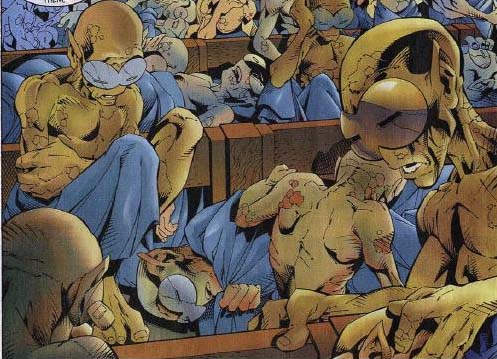 The Religious Affiliation of


Moloids


Subterraneans

Religion: Moloid religion

Name: Moloids
Alter Ego: Subterraneans
Other Names: Mole People
Classification:

villains

group
Publisher(s):

First Appearance: Fantastic Four (vol. 1) #22 (Jan. 1964): "The Return of the Mole Man!"
Creators: Stan Lee, Jack Kirby, George Roussos (as George Bell)
Number of Appearances: 37
Enemy of: The Fantastic Four
Type of Organization/Group: hidden race
Worked for: Mole Man
Number of group members listed below: 2
Character
(Click links for info about character
and his/her religious practice, affiliation, etc.)
Religious
Affiliation
Team(s)


[Notes]

Pub.
#
app.
[1st app: Fantastic Four (vol. 1) #22 (Jan. 1964)]
37
Moloid
1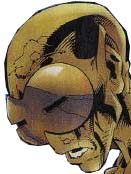 This character is in the following 15 stories which have been indexed by this website:

The Avengers (vol. 1) #17 (June 1965): "Four Against the Minotaur!"

Captain America

Dark Reign: The List - Punisher #1 (Dec. 2009): "Special Sneak Preview of Punisher: Franken-Castle"

Exiles (vol. 1) #10 (Apr. 2002): "A World Apart: Part 3"

Fantastic Four

The Incredible Hulk Annual #17 (Aug. 1991): "As Old as the Hills (Subterranean Wars pt 2)"

Marvel Super Hero Squad (20 Oct. 2009)

Marvel Team-Up

Mutant 2099 #1 (Nov. 2004)

X-Factor Annual #3 (1988): "Unnatural Selection"

The X-Men

Suggested links for further research about this character and the character's religious affiliation:
- http://en.wikipedia.org/wiki/Subterranea_(comics)#Moloids
- http://comicbookdb.com/team.php?ID=931
- http://www.marvunapp.com/master/mjmaol.htm
- http://www.marvunapp.com/master/suasum.htm