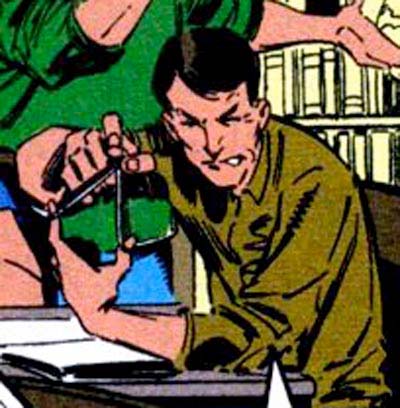 Jason Ionello


Religion: not determined yet

Name: Jason Ionello

Classification:

supporting character
Publisher(s):

First Appearance: Untold Tales of Spider-Man #1 (Sep. 1995): "To Serve and Protect?"
Creators: Kurt Busiek, Pat Olliffe, Al Vey, Pam Eklund
Number of Appearances: 40
Ally: Bluebird (Sally Avril)
Ally: Peter Parker
Occupation: high school student
Studied at: Midtown High School
Location: New York City, New York, USA
Gender: male
Note: designed Bluebird's costume, weapons
Jason Ionello was a high school classmate of Peter Parker (who was secretly Spider-Man) and Sally Avril.
Jason and his father designed the costume and weapons used by Sally in her ultimately disastrous attempt to become Spider-Man's superheroic partner.
This character is in the following 25 stories which have been indexed by this website:

Untold Tales of Spider-Man

Suggested links for further research about this character:
- http://comicbookdb.com/character.php?ID=35805
- http://www.comicvine.com/jason-ionello/29-24137/
- http://www.marvunapp.com/master/inuiq.htm
- http://www.marvunapp.com/master/blooblz.htm
- http://www.marvunapp.com/master/miamid.htm
- http://comicbookdb.com/issue.php?ID=50162
- http://www.comicvine.com/untold-tales-of-spider-man-to-serve-and-protect/37-41388/
- https://www.comics.org/issue/57658
- http://marvel.wikia.com/Untold_Tales_of_Spider-Man_Vol_1_1