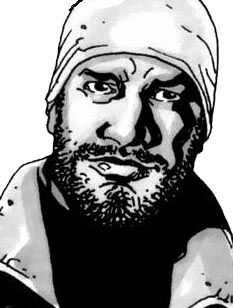 Tyreese


Religion: not determined yet

Name: Tyreese

Other Names: Tyreese Williams

Classification:

supporting character
Publisher(s):

First Appearance: The Walking Dead #7 (Apr. 2004): "Miles Behind Us, Part 1"
Creators: Robert Kirkman, Charlie Adlard, Chad L. Coleman (actor)
Number of Appearances: 49
Comic Book Appearances: 36
TV, Film Appearances: 13
Teams/Affiliations: Rick's zombie apocalypse survivor group
Enemy of: zombies, unnamed old man at country store
Employer: Atlanta Falcons
Allies: Rick Grimes, Chris
Family/Relative: Julie (child)
Occupation: athlete, bouncer, salesperson
Worked for: NFL
Location: Atlanta, Georgia, USA
Race: black
Gender: male
Note: pro-football player, car salesman before zombie apocalypse
Tyreese is the father of Julie. He played professional football in the NFL for a couple seasons before an injury made him retire from the sport. He was a Linebacker with the Atlanta Falcons in 1998 (that team's only Superbowl appearance). He worked a few different jobs before eventually becoming a car salesman.
When the zombie apocalypse came, Tyreese was living with his teenaged daughter Julie. Her boyfriend Chris had been having family problems and had recently moved in with them. They held out in their home for a while, before running out of food. It was winter and they had no fireplace. It was as cold in their home as outside, so they set out on the road to find food and a better place to live. They then met Rick Grimes and his group of survivors, and joined with them.
Not long after Tyreese joined up with Rick's group, he and Rick were working together to check out a house to see if zombies were in it. Some were, and some attacked Rick. Tyreese tackled them and killed them, saving Rick. Later (on page 16 in The Walking Dead #8, Rick asked Tyreese: "That was a hell of a save in there by the stairs. Where'd you learn to tackle like that?"
Tyreese answered: "NFL."
Rick asked: "No sh--? You were a pro football player?"
Tyreese explained a little about his background, telling Rick: "Yeah, for two years. Then I was a bouncer for a while. Then odd jobs. And eventually I settled into being a car salesman. Which is what I did for about five years until all this sh-- went down. You know how people sit around and say, 'Even the lowest paid pro athletes still make a couple hundred grand a year'? I was one of those guys. The pay was good, but I wanted the glory. I ended up trying a little toohard to impress my coach and I ended up getting hurt."
Tyeese, Julie and Chris were with Rick when they found the prison (West Georgia Correctional Facility) that they made into their home.
Excerpts
BELOW: Tyreese warns his daughter and her boyfriend to keep their hands to themselves: A few days ago, zombies attacked Tyreese and his fellow survivors while they were trying to find a new place to live at Wilshire Estates. Tyreese couldn't find his daughter Julie, until he found her alone with her boyfriend Chris, beginning to engage in what appeared to be heaving making out or petting. He didn't have time to address what was going on then, as he had to get them to safety from the zombies. Now, relatively safe on the Greene farm, Tyreese gives them a warning about their behavior. Julie and Chris say little to Julie's father in response, but after Tyreese leaves they talk, making it clear that although they have not had sex yet, they plan to when "the time is right." The conversation between Chris and Julie also reveals the seeds of what will later be revealed to be a suicide pact between them so that they can be together "for the rest of eternity."
Tyreese: Okay, guys. We need to talk.

Julie: Daaad!

Tyreese: Don't "Dad" me, young lady. This isn't going to go on right under my nose. I just don't have time to put up with this. I don't want to have to worry about you two fooling around all the time. I don't want to have to keep an eye on you on top of all the other sh-- I've got to do. You want to get pregnant? Do you not see how dangerous that would be? I don't know how Rick and Lori are dealing with it the way they are. This isn't a game. I know you two think you're in love but you're young... Think about what you're doing. *sigh* Just keep your hands to yourselves.

[Tyreese walks away.]

Chris: See? I told you we needed to go ahead and do it. I want to be together with you for the rest of eternity. I don't want your father to stand in the way of that.

Julie: I know... I just don't want to do it until the time is right. We have to wait.

Chris: Fine, Julie. We'll play it your way... But I don't want to wait forever.
Source: The Walking Dead #10 (July 2004): "Miles Behind Us, Part 4", pg. 20, panels 1-3. Written by Robert Kirkman. Art by Charlie Adlard. See also: sexual morality; afterlife; eternity; Tyreese; Chris; Julie
BELOW: Otis feels terrible about shooting Carl; he points how that he is non-violent and doesn't believe in killing: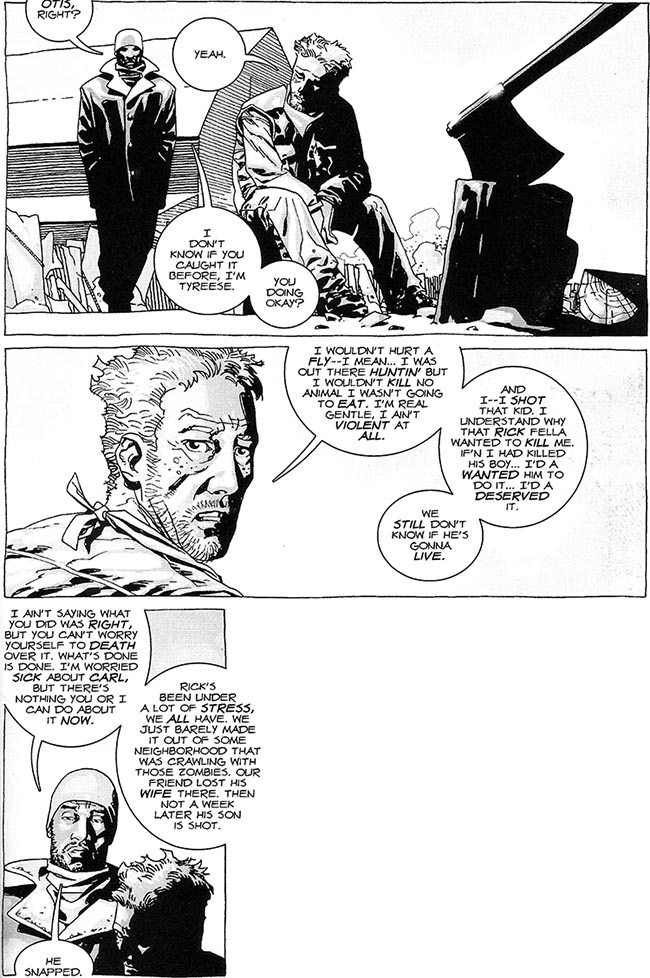 Tyreese: Otis, right?

Otis: Yeah.

Tyreese: I don't know if you caught it before. I'm Tyreese. You doing okay?

Otis: I wouldn't hurt a fly--I mean... I was out there huntin' but I wouldn't kill no animal I wasn't going to eat. I'm real gentle, I ain't violent at all. And I-- I shot that kid. I understand why that Rick fella wanted to kill me. If'n I had killed his boy... I'd a wanted him to do it... I'd a deserved it. We still don't know if he's gonna live.

Tyreese: I ain't saying what you did was right, but you can't worry yourself to death over it. What's done is done. I'm worried sick about Carl, but there's nothing you or I can do about it now.
Source: The Walking Dead #10 (July 2004): "Miles Behind Us, Part 4", pg. 11, panels 1-3. Written by Robert Kirkman. Art by Charlie Adlard. See also: sanctity of life; Tyreese; Otis
BELOW: Tyreese expresses belief in the sanctity of life when he tells Rick of his concern about not feeling bad about killing the man who viciously attacked his daughter:
Tyreese: A couple weeks after this all started... the first time we ran out of food, we made a run down to a country store about two miles from our house. We got there to find the place torn apart... It'd been looted three times over... But there were stray cans all over the place. It seemed safe enough so Julie, Chris and I split up... Looking the place over to find as much food as we could. There was this nice old man, gotta be at least sixty. He was always sitting in front of the store with buddies chatting away about God knows what... Nicest old man you'd ever meet. Always had a kind word to say. While we were separated, he got a hold of Julie... pulled her into a back room. Seems he'd been living in the place... We had no idea anyone was even there. The sweet old man... The first thing he thinks of when he finally sees other people... He tried to rape Julie. Had I been two minutes later when I found them... He'd have done it. I killed that man, Rick. I wanted to... But I didn't mean to. I beat on him... and he died.

Rick: Jesus, man... Don't beat yourself up over that... You did what any father would have done in that position. I may be a cop... But I don't let rules blind me to what's right and wrong, especially in light of our current situation.

Tyreese: I'm not beating myself up because I did it... I'm beating myself up because I don't feel bad about it. Yeah-- The end of the world changed him... But look at how it changed me.
Source: The Walking Dead #7 (Apr. 2004): "Miles Behind Us, Part 1", pg. 14-15. Written by Robert Kirkman. Art by Charlie Adlard. See also: murder; sanctity of life; Rick Grimes; Tyreese; unnamed old man at country store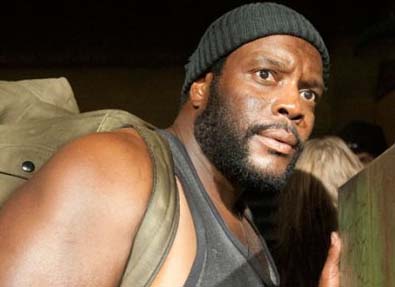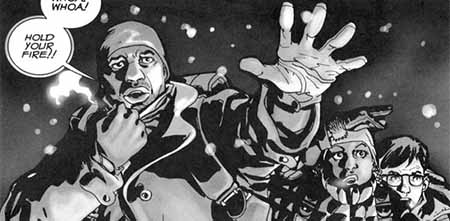 This character is in the following 6 stories which have been indexed by this website:

The Walking Dead

Suggested links for further research about this character:
- http://en.wikipedia.org/wiki/Tyreese
- http://walkingdead.wikia.com/wiki/Tyreese_(TV_Series)
- http://walkingdead.wikia.com/wiki/Tyreese_(Comic_Series)
- http://www.comicvine.com/tyreese/4005-46818/
- http://comicbookdb.com/character.php?ID=16270
- http://imagecomics.wikia.com/wiki/The_Walking_Dead_Vol_1_7