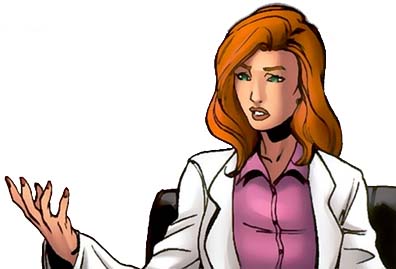 The Religious Affiliation of


Evelyn Necker


Religion: Scientism

Name: Evelyn Necker
Other Names: Dr. Evelyn Necker; Dr. Evelyn Clarice Sarah Necker; Dr. Necker; Eve Necker; Eve; Evelyn; Evelyn "Eve" Necker
Classification:

supporting character

scientist
Publisher(s):

First Appearance: Death's Head II (vol. 1) #1 (Mar. 1992): "The Wild Hunt, Part One: Mergers and Acquisitions"
Creators: Dan Abnett, Liam Sharp, Bambos Georgiou, Andy Lanning
Number of Appearances: 27
Teams/Affiliations: A.I.M.; Project: Pegasus
Ally: Eliza Necker
Ally: Duffy
Ally: Serene
Ally: Wadlow
Occupation: scientist
Location: Los Angeles, California, USA
Gender: female
Note: circa 2020
Dr. Evelyn Necker worked for A.I.M. in the near-future time period of 2020 A.D., identified as "Earth 8410." She was associated with the Los Angeles AIM lab known as the AIM Pacific Vista Laboratories, located at AIM's Los Angeles Conurbation.
Dr. Necker created Death-Wreck, Death's Head II and Death Metal.
Dr. Necker did not create the original Death's Head. She created the Minion cyborg into which she assimilated the consciousness of the original Death's Head. Minion and Death's Head thus joined became known as Death's Head II.


This character is in the following 11 stories which have been indexed by this website:

Death Wreck

Death's Head II

Suggested links for further research about this character and the character's religious affiliation:
- http://www.comicvine.com/evelyn-necker/29-47367/
- http://marvel.wikia.com/Evelyn_Necker_(Earth-8410)
- http://comicbookdb.com/character.php?ID=11915
- http://www.marvunapp.com/master/neanek.htm
- http://www.marvunapp.com/master/ahai.htm
- http://www.marvunapp.com/master/earthteaz.htm
- http://www.comiccollectorlive.com/LiveData/Character.aspx?id=17a7f1ad-2ffd-4fb3-a14f-b78f5153645e
- https://www.comics.org/issue/71164/
- http://comicbookdb.com/issue.php?ID=20887
- http://marvel.wikia.com/Death's_Head_2_Vol_1_1
- http://www.comicvine.com/deaths-head-ii-the-wild-hunt-part-one-mergers-and-aquisitions/37-114879/