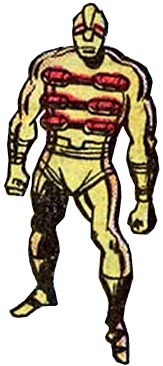 The Religious Affiliation of


Synthoids


Religion: N.A.

Name: Synthoids
Other Names: A.I.M. Synthoids; AIM Synthoids; chemical androids; super-synthoid; humanoid
Classification:

villain
Publisher(s):

First Appearance: Tales of Suspense (vol. 1) #78 (June 1966): "Them!"
Creators: Jack Kirby, Stan Lee, Frank Giacoia
Super? (Has Super Powers/Special Abilities/Technology): Yes
Number of Appearances: 7
Teams/Affiliations: A.I.M.
Enemy of: Captain America, Nick Fury, The Thing, S.H.I.E.L.D.
Gender: not applicable
Note: chemical-based class of AIM robots
A.I.M. Synthoids are a class of robots or androids used many times by the science-based terrorist organization A.I.M. Unlike traditional mechanical-based robots, Synthoids are chemical based. When first encountered (by Captain America and Nick Fury), an army of Synthoids was seen growing like plants in a glass-enclosed hydroponic garden. When defeated, they reverted to basic elements.
A number of variations of Synthoids have been used by A.I.M. These include the "super-synthoid" (a larger, more powerful version), the Attackoid, and thing synthoids patterned after Ben Grimm (the powerful super-hero known as the Thing).
In many cases, Synthoids appear to have very advanced, sophisticated programming, but they are apparently not sentient or particularly concerned with self-preservation. They are used as warriors, soldiers, agents and cannon fodder by A.I.M.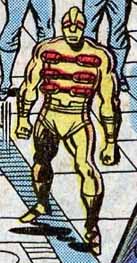 This character is in the following 7 stories which have been indexed by this website:

Marvel Two-in-One

Solo Avengers

Strange Tales

Tales of Suspense (vol. 1) #78 (June 1966): "Them!"

Suggested links for further research about this character and the character's religious affiliation:
- http://www.marvunapp.com/master/ahai.htm
- https://www.comics.org/issue/20132/
- http://comicbookdb.com/issue.php?ID=15978
- http://marvel.wikia.com/Tales_of_Suspense_Vol_1_78
- http://www.comicvine.com/tales-of-suspense-crescendo-them/37-8618/
- http://www.comiccollectorlive.com/LiveData/Issue.aspx?id=76bdbff9-635b-46df-b5c9-c913fabd6e1a