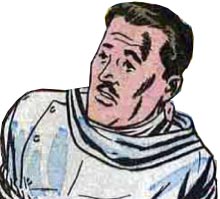 Sam


Religion: not determined yet

Name: Sam

Other Names: Joe; Harold; Roscoe

Classification:

supporting character
Publisher(s):

First Appearance: Strange Tales #136 (Sep. 1965): "Find Fury or Die!"
Creators: Stan Lee, Jack Kirby, John Powers Severin
Number of Appearances: 15
Teams/Affiliations: S.H.I.E.L.D.
Occupation: agent, barber, guard
Location: New York City, New York, USA
Race: white
Gender: male
Note: guards SHIELD barber shop secret entrance
The mustachioed gentleman known as "Sam," who guards the barber shop used as a secret entrance to SHIELD headquarters, has also been identified as Joe, Harold and Roscoe. Presumably all of these names are code names. "Sam" might be a code name, too.
The barber shop entrance to SHIELD headquarters, which was long staffed by "Sam," was destroyed by agents of The Corporation in Captain America #s 228 and 228.
In panel 1 on page 5 in Captain America (vol. 1) 161, Sam is bemused at a fight he just witnessed between Captain America and two SHIELD agents. He says: "All this trouble ove one girl... My aunt used to tell me, 'Harold, no woman is worth fighting over' -- and she should know."
Perhaps this means that Sam's real name is "Harold."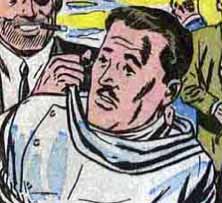 This character is in the following 7 stories which have been indexed by this website:

Captain America

Suggested links for further research about this character:
- http://www.marvunapp.com/Appendix3/shieldbarbershop.htm
- http://comicbookdb.com/character.php?ID=36933