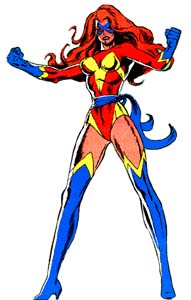 She-Thing


Sharon Ventura

Religion: not determined yet

Name: She-Thing

Alter Ego: Sharon Ventura

Other Names: Ms. Marvel; Ms. Marvel II

Classification:

hero
Publisher(s):

First Appearance: (as Sharon Ventura) The Thing #27 (Sep. 1985); (as She-Thing) Fantastic Four (vol. 1) #310 (Jan. 1988): "Things to Come!"
Creators: Mike Carlin, Ron Wilson, Paul Ryan
Super? (Has Super Powers/Special Abilities/Technology): Yes
Number of Appearances: 115
Teams/Affiliations: The Fantastic Four; The Frightful Four; Unlimited Class Wrestling Federation; Team America
Gender: female
Originally empowered by Karl Malus, who imbued her with super strength. Became the super-powered second "Ms. Marvel." Later changed in a cosmic ray accident into "She-Thing."
Not a member of Team America until the group became known as Thunderiders.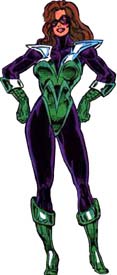 This character is in the following 11 stories which have been indexed by this website:

Captain America

Fantastic Five

Fantastic Four

Marvel Knights 4 #21 (Oct. 2005): "Desperate Housewife"

Secret Wars II #7 (Jan. 1986): "Charge of the Dark Brigade!"

X-Factor Annual #5 (1990): "Act of Faith"

Suggested links for further research about this character:
- http://www.marvel.com/universe/Ms._Marvel_(Sharon_Ventura)
- http://www.comicvine.com/sharon-ventura/29-20604/
- http://www.marvunapp.com/master/mpmun.htm
- http://www.comicboards.com/marvelguide/s2.html
- http://www.marvunapp.com/master/shbshh.htm
- http://www.marvunapp.com/master/tartaz.htm
- http://www.marvunapp.com/master/mahmam.htm
- http://www.comics.org/issue/40446/
- http://marvel.wikia.com/Thing_Vol_1_27
- http://comicbookdb.com/issue.php?ID=39726
- http://www.comics.org/issue/43971/
- http://marvel.wikia.com/Fantastic_Four_Vol_1_310
- http://comicbookdb.com/issue.php?ID=28645