Ann Kim


Religion: not determined yet

Name: Ann Kim

Other Names: Ann; Kim

Classification:

supporting character
First Appearance: Hardware #32 (Oct. 1995): "Swan Song"
NOTE: This is our current best assessment of the first appearance of this character, but this has been flagged in our database as uncertain.
Creators: Dwayne McDuffie, Denys Cowan, Prentis Rollins
Number of Appearances: 4
Enemy of: Cadaver, Autopsy, Post Mortem
Ally: Cheryl Saltz
Ally: Hardware
Ally: David Kim
Worked for: Hard Co.
Race: Asian
Gender: female
Note: hospitalized due to attack by Autopsy, Post Mortem
Summary of Hardware #46 (Dec. 1996), from now-defunct webpage at http://milestone.luthor.com/comics_detail.asp?ID=178&:
The artificial intelligence Curtis creates takes on the persona of Edwin Alva. The Alva IA has dispersed into the Internet and can't be destroyed. As Curtis and Alva IA argue, Cheryl learns that Edwin, Jr. and Kim are in the hospital due to the attack of Autopsy and Post-Mordem. Edwin IA gives some clues to Curtis on the attacks and Hardware takes off to get some payback. We see Kim's relatives in a sick, twisted sweatshop. Congresswoman Metcalf helps commission an agency, COVERT, to monitor the superhumans located in Dakota. Hardware tracks down and stops the horrors of Autopsy and Post Mordem. And then Barraki drops an ultimatum on Curtis: make a commitment or she leaves.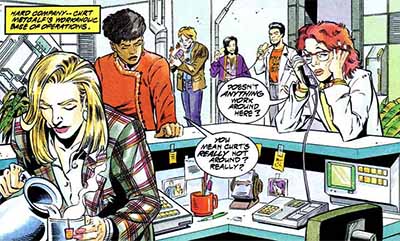 Suggested links for further research about this character:
- http://dc.wikia.com/wiki/Hard_Company
- http://www.internationalhero.co.uk/h/hardware.htm
- http://dc.wikia.com/wiki/Arnold_Porter_(Dakotaverse)
- http://dc.wikia.com/wiki/Milestone_Forever_Vol_1_2