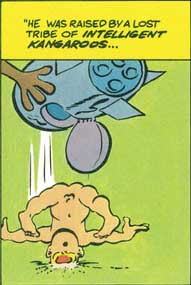 The Religious Affiliation of


tribe of intelligent kangaroos


Religion: uplifted animals

Name: tribe of intelligent kangaroos
Classification:

supporting characters

group
Publisher(s): Kitchen Sink Press
First Appearance: Megaton Man (vol. 1) #1 (Nov. 1984): "They Call the Doctor... Software!"
Creators: Don Simpson
Number of Appearances: 1
Ally: Megaton Man
Species: kangaroo
Note: lost tribe; raised Megaton Man
A lost tribe of intelligent kangaroos who raised Megaton Man are referred to in panel 3 on page 22 in Megaton Man #1 (Nov. 1984). Talking to the U.S. President and cub reporter Preston Percy, Professor Levitch (secretly Doctor Software) gave an account of Megaton Man's secret origin, explaining: "Megaton Man was the sole survivor of a dying world... The infant astronaut was subjected to mysterious cataclysmic rays... He was raised by a lost tribe of intelligent kangaroos... At a Scientology lecture, the youth was bitten by a radioactive frog..."