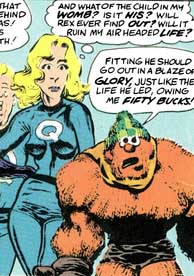 ? Phloog


Religion: not determined yet

Name: ? Phloog

Classification:

supporting character
Publisher(s): Kitchen Sink Press
First Appearance: Megaton Man (vol. 1) #1 (Nov. 1984): "They Call the Doctor... Software!"
Creators: Don Simpson
Number of Appearances: 1
Family/Relatives: Megaton Man (father), See-Thru Girl (mother)
Location: Megatropolis, Michigan, USA
Race: white
Note: child of Megaton Man, See-Thru Girl
Toward the end of Megaton Man #1 (Nov. 1984), an incredible battle between Megaton Man and Doctor Software takes a turn for the worse and Megaton Man's friends think that he has been killed. Stella Starlight (See-Thru Girl) thinks to herself: "And what of the child in my womb? Is it his? Will Rex ever find out? Will it ruin my airheaded life?"