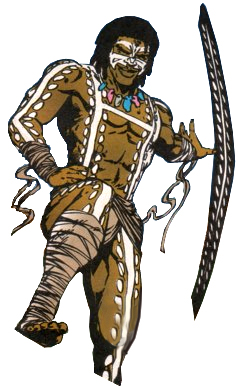 The Religious Affiliation of


Dreamguard


Willie Walkaway

Religion: Australian Aboriginal religion

Name: Dreamguard
Alter Ego: Willie Walkaway
Classification:

hero
Publisher(s):

First Appearance: Force Works #9 (Mar. 1995): "Dreamtime"
Creators: Dan Abnett, Andy Lanning, Jim Calafiore, Rey Garcia
Super? (Has Super Powers/Special Abilities/Technology): Yes
Number of Appearances: 3
Nation: Australia
Gender: male
Walkaway dreamt of a time long ago. The word Orphan was repeated in his head over and over. Suddenly Orphan spoke to Walkaway and he learned of the alien's crash on Earth how the Aborigines found it and how they controlled its powers for generations with chosen Dreamguards. Walkaway decided to stay with Orphan as its new Dreamguard.
This character is in the following 2 stories which have been indexed by this website:

Avengers Assemble (vol. 1) #1 (July 2010)

Force Works #9 (Mar. 1995): "Dreamtime"

Suggested links for further research about this character and the character's religious affiliation:
- http://www.marvunapp.com/Appendix3/dreamguardfw.htm
- http://www.comicvine.com/dreamguard/29-14240/
- http://www.marvunapp.com/master/drbdrz.htm