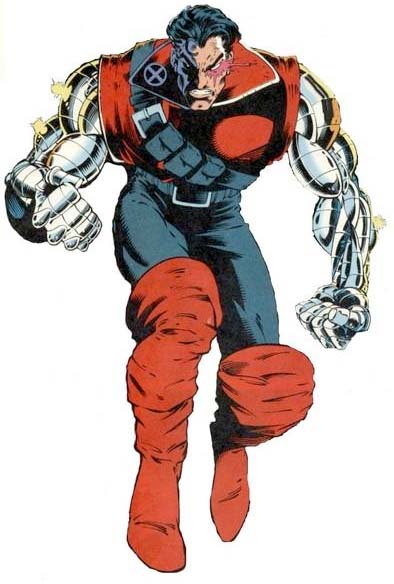 Weapon X


Garrison Kane

Religion: not determined yet

Name: Weapon X

Alter Ego: Garrison Kane

Other Names: Gar Kane; Garrison "Gar" Kane; Weapon X III

Classification:

hero
Publisher(s):

First Appearance: X-Force (vol. 1) #2 (Sep. 1991): "The Blood Hunters"
Creators: Rob Liefeld, Fabian Nicieza
Super? (Has Super Powers/Special Abilities/Technology): Yes
Number of Appearances: 48
Teams/Affiliations: Clan Chosen; Six Pack; Weapon P.R.I.M.E.; Weapon X (Exiles)
Employer: Canadian government's Department K
Occupation: intelligence agent, mercenary
Gender: male
Alongside Wade Wilson, the Weapon X program "fixed" Kane by transforming him into a cyborg, by grafting cybernetic arms in place of his real ones. He was loaned for a time to Department K, a short-lived successor to Department H, a branch of the Canadian government that sanctioned, supported, and monitored superhuman activity in Canada.
This character is in the following 9 stories which have been indexed by this website:

Cable (vol. 1) #1 (May 1993): "Rocks and Waves"

Deadpool: The Circle Chase #1 (Aug. 1993): "Ducks in a Row!"

Weapon X: The Draft - Agent Zero #1 (Oct. 2002): "Initiation"

Weapon X: The Draft - Kane #1 (Oct. 2002): "Caught in the Draft"
(lead character)

X-Force

X-Men: Phoenix Force Handbook (Sep. 2010)

Suggested links for further research about this character:
- http://www.marvel.com/universe/Kane,_Garrison
- http://www.marvunapp.com/master/kankar.htm
- http://www.comicboards.com/marvelguide/w.htm
- http://www.marvunapp.com/master/wbwei.htm