Amelia


Religion: not determined yet

Name: Amelia

Classification:

supporting character
Publisher(s):

First Appearance: Hostages - Season 1, Episode 1 (23 Sep. 2013): "Pilot"
Creators: Omri Givon, Alon Aranya, Jeffrey Nachmanoff, Lauren Kelly (actress)
Number of Appearances: 1
Ally: Morgan Sanders
Occupation: high school student
Studied at: Whelan High School
Location: Washington, D.C., USA
Race: white
Gender: female
Note: close friend of hostage Morgan Sanders
In the first episode of the TV series "Hostages," Morgan Sanders (who will soon be taken hostage by Duncan Carlisle's crew in their effort to assassinate the U.S. President) is seen crying on her bed in her bedroom. She is crying because she is almost certain she is pregnant. She hears her laptop beep. She opens it up. She is receiving a video call (perhaps via Skype) from her friend and high school classmate Amelia. Morgan opens her laptop and talks to Amelia for a few minutes. Amelia wants to know if Morgan plans to tell Boyd about the pregnancy. Morgan says definitely not.
It is clear that Amelia and Morgan are very close friends who tell each other essentially everything.
As of this writing (16 October 2013), IMDB.com's Full Credits page for episode 2 of the "Hostages" series lists actress Lauren Kelly as playing "Amelia" in this episode. But she is not listed in the opening or closing credits and we have not seen her during multiple viewings of the episode.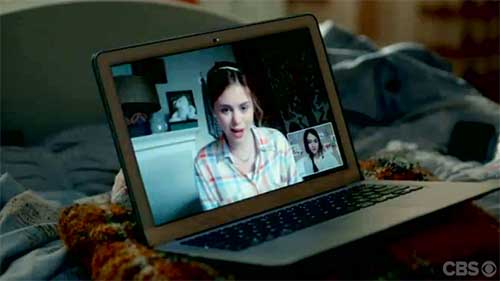 Suggested links for further research about this character:
- http://www.imdb.com/title/tt2925842/fullcredits