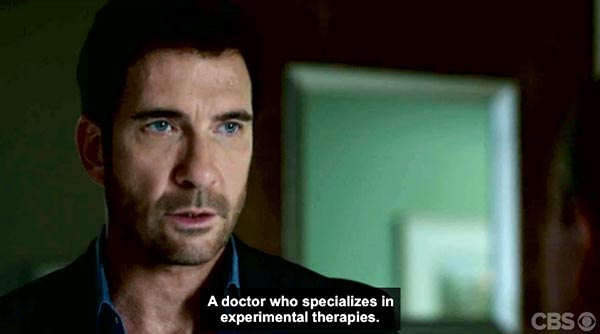 unnamed experimental doctor


Religion: not determined yet

Name: unnamed experimental doctor

Classification:

supporting character
Publisher(s):

First Appearance: Hostages - Season 1, Episode 4 (14 Oct. 2013): "2:45 PM"
Creators: Aron Eli Coleite, Russell Lee Fine
Number of Appearances: 1
Occupation: doctor
Note: does experimental therapies; may be able to cure Nina
In episode 4 of the TV series "Hostages," we learn that a specific doctor is offering an experimental therapy which Duncan Carlisle (as well as Kramer) hope can save the life of Duncan's wife Nina. What has been hinted at in various snippets of dialogue throughout the series thus far is that the only reason Duncan and Kramer are involved in the plot to assassinate the President is that doing so will somehow give them hope of curing Nina.
Nina Carlisle: "Some things are just beyond our control."
Duncan Carlisle: "There are other ways. Other choices we can make. We can pursue other other types of treatments."
Nina: "What are you talking about?"
Duncan: "I think I found somebody who can help. A doctor who specializes in experimental therapies."
Nina: "Why are you just telling me about this now?"
Duncan: "It's complicated."
Nina: "Is it legal?"
Duncan says nothing.
Nina: "No, don't do it. Do not spend every penny we have chasing some fantasy cure."
Duncan: "It's not a fantasy. It's dangerous, and it's risky, but it's... It's a chance. Our only chance. But if you leave now, if you stop the chemo, the treatment won't work."
With this conversation, a specific doctor, rather than simply a vague medical hope, is indicated. Exactly how killing the President is tied into getting experimental therapy from this doctor is not yet known.