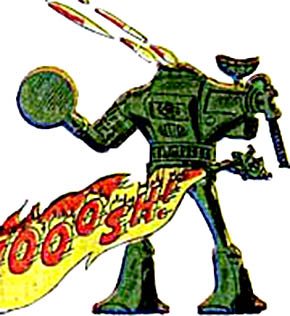 The Religious Affiliation of


unnamed giant robot


Religion: N.A.

Name: unnamed giant robot
Other Names: unnamed robot
Classification:

villain
Publisher(s):

First Appearance: The X-Men (vol. 1) #37 (Oct. 1967): "We, the Jury..."
Creators: Roy Thomas, Ross Andru, Don Heck
Super? (Has Super Powers/Special Abilities/Technology): Yes
Number of Appearances: 1
Enemy of: X-Men
Occupation: guardian
Worked for: Factor Three
Location: Europe
Gender: not applicable
Note: guarded Factor Three control room, but was easily defeated
After being put on trial by Factor Three (for crimes against mutants) and sentenced to a horrible punishment, the X-Men managed to escape. They made their way to the Factor Three control room, which was being guarded by a gigantic robot. They easily defeated this robot and entered the control room. But by the time they got there, the mysterious leader of Factor Three (known as "Mutant Master") was gone.
Factor Three used a number of spider robots ("Arachnoids") at the same time that an unnamed giant robot was used to guard the control room of their secret base. The giant guardian robot and the spider-robots are completely different from each other.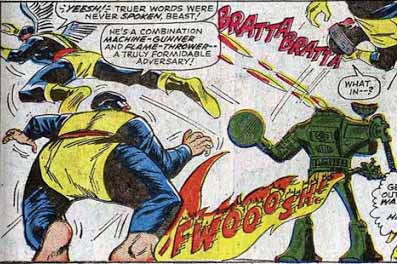 Suggested links for further research about this character and the character's religious affiliation:
- http://comicbookdb.com/issue.php?ID=2705
- http://marvel.wikia.com/X-Men_Vol_1_37
- http://www.uncannyxmen.net/db/issues/showquestion.asp?fldAuto=3027