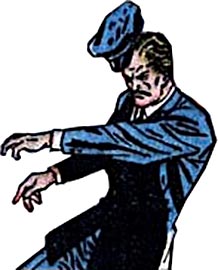 unnamed guard


Religion: not determined yet

Name: unnamed guard

Other Names: unnamed museum guard; unnamed security guard

Classification:

supporting character
Publisher(s):

First Appearance: The X-Men (vol. 1) #40 (Jan. 1968): "The Mark of the Monster!"
Creators: Roy Thomas, Don Heck, George Tuska
Number of Appearances: 1
Enemy of: Marvel Girl, X-Men
Ally: unnamed curator
Occupation: security guard
Worked for: The Museum of the City of New York
Location: New York City, New York, USA
Race: white
Gender: male
Note: couldn't stop X-Men going to Frankenstein robot in Museum
A security guard (whose name was never revealed) worked for the City Museum of New York. A crew from the Museum went to the Arctic to retrieve the legendary Frankenstein's Monster, which has long been buried in ice. Professor Charles Xavier learned of this and sent the X-Men to the Museum to prevent the potentially dangerous android from being waken and causing harm. The unnamed guard was on duty at the museum when the X-men went there.
The unnamed security guard tried valiantly to block Jean Grey of the X-Men from entering the area of the Museum where they were keeping the Monster. But the mutant powers of Jean Grey were too much for this guard to handle.
The guard was polite the Jean Grey and Professor Xavier when they asked to enter the Museum. But it was after hours, and they could not admitted, the guard explained. Worried about the danger that the Frankenstein's Monster robot posed, Professor Xavier gave Jean a mental command to use her powers against the guard. She telekinetically slammed him against a wall, knocking him out, hoping he would think it was an accident when he woke up. Then the X-Men rushed to the scene where the Frankenstein's Monster robot was already waking up.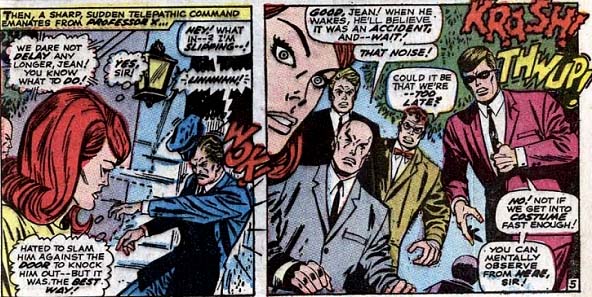 Suggested links for further research about this character:
- http://marvel.wikia.com/X-Men_Vol_1_40
- http://www.uncannyxmen.net/db/issues/showquestion.asp?fldAuto=3248
- http://bronzeagebabies.blogspot.com/2013/10/heroes-and-horrors-x-men-40.html