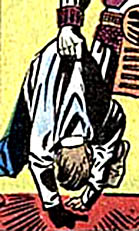 unnamed lab assistant


Religion: not determined yet

Name: unnamed lab assistant

Classification:

supporting character

scientist
Publisher(s):

First Appearance: The X-Men (vol. 1) #41 (Feb. 1968): "Now Strikes... the Sub-Human!"
Creators: Roy Thomas, Don Heck, George Tuska
Number of Appearances: 1
Enemy of: Grotesk
Defended or Helped by: X-Men
Occupation: laboratory assistant
Worked for: Archer College, Dr. Hunt
Location: New York City, New York, USA
Gender: male
Note: abducted by Gor-Tok
The monstrously powerful Gor-Tok, the last survivor of the underground-dwelling Gortokian race, abducted an unnamed laboratory assistant who worked for seismologist Dr. Hunt at Archer College. Gor-Tok (known as "Grotesk") demanded that the laboratory assistant tell him the location of the "weapon" which damaged his underground realm. (Dr. Hunt had been demonstrating a device he created, a device which caused underground tremors.)
Fortunately the X-Men arrived to rescue him and combat Grotesk.


Suggested links for further research about this character:
- http://marvel.wikia.com/X-Men_Vol_1_41
- http://www.uncannyxmen.net/db/issues/showquestion.asp?fldAuto=3256