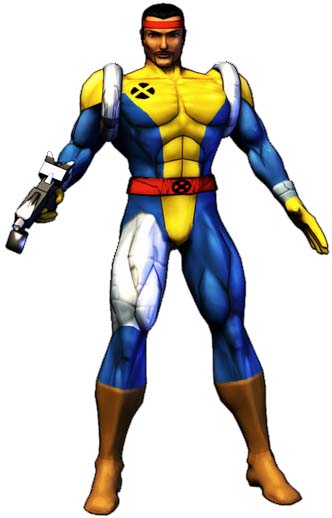 The Religious Affiliation of


Forge


Jonathon Silvercloud

Religion: Native American shamanism (Cheyenne)

Name: Forge
Alter Ego: Jonathon Silvercloud
Other Names: The Maker
Classification:

hero
Publisher(s):

First Appearance: The Uncanny X-Men (vol. 1) #184 (Aug. 1984): "The Past...of Future Days"
Creators: Chris Claremont, John Romita Jr., Dan Green
Super? (Has Super Powers/Special Abilities/Technology): Yes
Number of Appearances: 394
Comic Book Appearances: 372
TV, Film Appearances: 18
Video Game, Computer Game Appearances: 4
Teams/Affiliations: Brotherhood of Mutant Supremacy; The Mutant Underground; Weapon X (Exiles); X-Factor; X-Men
Race: Native American
Gender: male
Forge's high-tech penthouse headquarters in Dallas, Texas is known as the "Aerie." The "Aerie" first appeared in Uncanny X-Men #184. It was destroyed when Forge battled the Adversary, but it may have been rebuilt.
This character is in the following 106 stories which have been indexed by this website:

Astonishing X-Men

Black Panther (vol. 4) #15 (June 2006): "Bride of the Panther: Part Two"
(1-panel cameo)

Fantastic Four Annual #23 (1990): "When Franklin Comes Marchin' Home"

Mystique

New Thunderbolts

Sabretooth and Mystique #2 (Jan. 1997): "Torture"
(someone disguised or dressed as)

Spider-Man and X-Factor: Shadowgames

The Uncanny X-Men

Wolverine

X-Factor

X-Men

X-Men Forever

X-Men: Divided We Stand #2 (July 2008): "Idee Fixe"

X-Men: Legacy

Suggested links for further research about this character and the character's religious affiliation:
- http://www.adherents.com/lit/comics/Forge.html
- http://www.imdb.com/character/ch0001130/
- http://www.comicvine.com/forge/29-4279/
- http://www.marvunapp.com/master/for.htm
- http://www.marvunapp.com/master/x0xmxz.htm
- http://www.comicboards.com/marvelguide/f2.html
- http://www.marvunapp.com/master/x0xaxl.htm
- http://www.marvunapp.com/master/adaf.htm