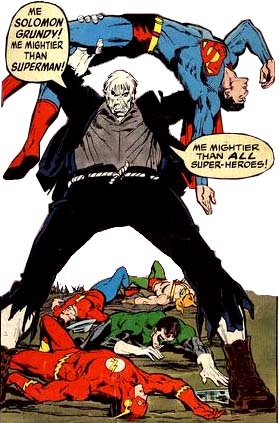 The Religious Affiliation of


Solomon Grundy


Cyrus Gold

Religion: atheist

Name: Solomon Grundy
Alter Ego: Cyrus Gold
Classification:

villain
Publisher(s):

First Appearance: All-American Men of War #61 (Oct. 1944): "Fighters Never Quit"
Creators: Alfred Bester, Paul Reinman
Super? (Has Super Powers/Special Abilities/Technology): Yes
Number of Appearances: 102
Comic Book Appearances: 78
TV, Film Appearances: 24
Teams/Affiliations: Infinity, Inc. (founder); Injustice League; Secret Society of Super Villains; The Injustice Gang; The Injustice Society; The Legion of Doom; The Suicide Squad
Enemy of: Green Lantern
Race: white
Gender: male
Solomon Grundy is generally regarded as the arch-enemy of Green Lantern (Alan Scott).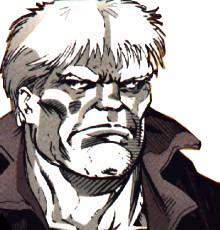 This character is in the following 25 stories which have been indexed by this website:

All-American Men of War #61 (Oct. 1944): "Fighters Never Quit"

America vs. the Justice Society #3 (Mar. 1985): "Hostile Witness"

Challenge of the Super Friends - Season 1, Episode 1 (9 Sep. 1978): "Wanted: The Superfriends"

Doctor Strangefate #1 (Apr. 1996): "The Decrees of Fate"
(character based on)

Joker: Last Laugh #3 (Dec. 2001): "Lunatic Fringe"

Justice League of America

Justice Society of America

Magog #1 (Nov. 2009): "Lethal Force"
(mentioned)

Superman (vol. 1) #301 (July 1976): "Solomon Grundy Wins on a Monday!"

Superman/Batman: Public Enemies (2009)

Suggested links for further research about this character and the character's religious affiliation:
- http://en.wikipedia.org/wiki/Solomon_Grundy_(comics)
- http://www.imdb.com/character/ch0030287/
- http://www.dcuguide.com/who.php?name=solomongrundy
- http://www.dcuguide.com/chronology.php?name=solomongrundy