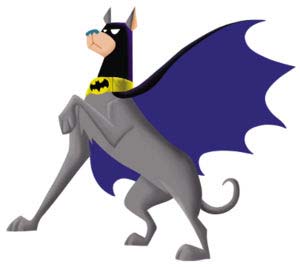 The Religious Affiliation of


Ace the Bat-Hound


Ace

Religion: N.A.

Name: Ace the Bat-Hound
Alter Ego: Ace
Classification:

hero
Publisher(s):

First Appearance: Batman (vol. 1) #92 (June 1955): "Ace, the Bat-Hound!"
Creators: Bill Finger, Sheldon Moldoff, Stan Kaye
Number of Appearances: 51
Teams/Affiliations: Batman family
Species: dog
Gender: male
Note: dog
This character is in the following 5 stories which have been indexed by this website:

Batman

Justice Society of America (vol. 3) #22 (Feb. 2009): "One World, Under Gog, Part VII: Thy Will Be Done"
(cameo)

Suggested links for further research about this character and the character's religious affiliation:
- http://en.wikipedia.org/wiki/Ace_the_Bat-Hound
- http://dc.wikia.com/wiki/Ace_the_Bat-Hound_(Earth-One)
- http://dc.wikia.com/wiki/Ace_the_Bat-Hound_(New_Earth)
- http://dc.wikia.com/wiki/Ace_the_Bat-Hound_(DCAU)
- http://comicbookdb.com/character.php?ID=6408
- http://comicbookdb.com/character.php?ID=6409
- http://comicbookdb.com/character.php?ID=41656
- http://www.comicvine.com/ace-the-bat-hound/29-31302/
- http://comicbookdb.com/issue.php?ID=82428
- https://www.comics.org/issue/12089/
- http://www.dcuguide.com/who.php?name=aceprec
- http://www.dcuguide.com/chronology.php?name=aceprec
- http://www.dcuguide.com/who.php?name=ace
- http://www.dcuguide.com/chronology.php?name=ace