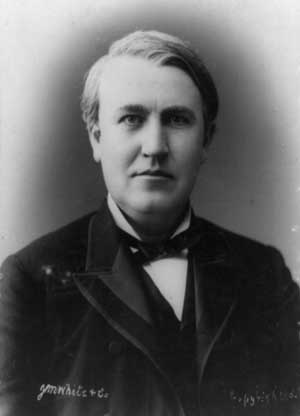 The Religious Affiliation of


Thomas Edison


Religion: Congregationalist; Deist

Name: Thomas Edison
Other Names: Thomas Alva Edison
Classification:

scientist

real/historical person
Publisher(s):

Earliest Appearance Listed in This Database: Edison Drawn by 'World' Artist (1896)
Creators: James H. White
Number of Appearances: 189
Comic Book Appearances: 37
TV, Film Appearances: 120
TV, Film Appearances As Himself: 31
Video Game, Computer Game Appearances: 1
Occupation: businessperson, inventor, scientist
Gender: male
Jefferson Pierce (secretly the hero Black Lightning) taught at Edison High School in Gotham City. The young superheroine Halo was a student there. The school was named after famed inventor Thomas Edison.
This character is in the following 4 stories which have been indexed by this website:

Batman and the Outsiders

Edison Drawn by 'World' Artist (1896)

The X-Men (vol. 1) #48 (Sep. 1968): "Yours Truly the Beast"
(mentioned)

Suggested links for further research about this character and the character's religious affiliation:
- http://www.adherents.com/people/pe/Thomas_Edison.html
- http://en.wikipedia.org/wiki/Thomas_Edison
- http://www.comicvine.com/thomas-alva-edison/29-20002/
- http://www.imdb.com/character/ch0030532/
- http://www.imdb.com/name/nm0249379/