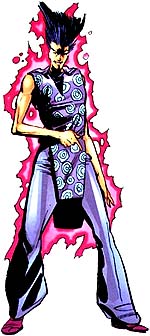 The Religious Affiliation of


Legion


David Haller

Name: Legion

Alter Ego: David Haller

Other Names: David Charles Haller; Cyndi; Jack Wayne; Jemail Karami; Legion II

Classification:

villain
Publisher(s):

First Appearance: The New Mutants (vol. 1) #25 (Mar. 1985): "The Only Thing to Fear . . ."
Creators: Chris Claremont, Bill Sienkiewicz
Super? (Has Super Powers/Special Abilities/Technology): Yes
Number of Appearances: 59
Comic Book Appearances: 58
TV, Film Appearances: 1
Teams/Affiliations: X-Men
Enemy of: Marci Sabol, Brett Sabol, Mel Sabol, Maynard, unnamed police officer
Nation: Israel
Race: white
Gender: male
Technically, he was never a member of a regular X-Men team, but belonged to the short-lived "Muir Island X-Men."
This character is in the following 24 stories which have been indexed by this website:

Mystique #20 (Dec. 2004): "Quiet: Part 1"
(mentioned)

The New Mutants

Secret Wars II #1 (July 1985): "Earthfall!"

X Necrosha #1 (Dec. 2009): "The Foretelling"

X-Factor

X-Men

X-Men Forever (vol. 1) #1 (Jan. 2001): "The Destiny Pact"
(mentioned)

X-Men: Legacy

Suggested links for further research about this character and the character's religious affiliation:
- http://www.adherents.com/lit/comics/Legion.html
- http://www.comicvine.com/legion/29-13349/
- http://www.imdb.com/title/tt0751384/
- http://marvel.wikia.com/wiki/Category:Jewish
- http://www.marvunapp.com/master/cycz.htm
- http://www.marvunapp.com/master/kankar.htm
- http://www.marvunapp.com/master/lealeg.htm
- http://www.comicboards.com/marvelguide/l.htm
- http://www.marvunapp.com/master/watwaz.htm