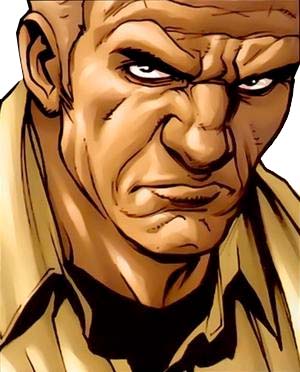 The Religious Affiliation of


Gabriel Jones


Religion: Christian (denomination unknown)

Name: Gabriel Jones
Other Names: Gabe Jones; Gabriel "Gabe" Jones; Gabriel Jones; Number 6; Number 68
Classification:

hero
Publisher(s):

First Appearance: Sgt. Fury and His Howling Commandos (vol. 1) #1 (May 1963): "Seven Against the Nazis"
Creators: Stan Lee, Jack Kirby, Dick Ayers
Super? (Has Super Powers/Special Abilities/Technology): Yes
Number of Appearances: 125
Comic Book Appearances: 122
TV, Film Appearances: 3
Teams/Affiliations: Godzilla Squad; S.H.I.E.L.D.; The Howling Commandos
Race: black
Gender: male
Gabriel "Gabe" Jones is an important S.H.I.E.L.D. agent who has been a recurring supporting character for a number of Marvel characters, especially Captain America and Nick Fury.
Gabriel Jones plays the trumpet. He is named after the angel Gabriel from the New Testament.
This character is in the following 34 stories which have been indexed by this website:

Captain America & Thor!: Avengers #1 (Sep. 2011): "U-Base"

Captain America / Nick Fury: The Otherworld War (Oct. 2001): "The Otherworld War!"

Captain America

Captain America: The First Avenger (2011)

Heroes for Hire (vol. 2) #13 (Oct. 2007): "Killer Instincts, Part Three"
(1-panel cameo)

Hulk (vol. 3) #4 (Aug. 2008): "Red Light, Green Light"
(4-panel cameo)

Iron Man (vol. 1) #16 (Aug. 1969): "Of Beasts and Men!"

Marvel Comics Presents (vol. 1) #79 (Early July 1991): "Rumanian Rumble, Part 3: The Wages of Sin"

Marvel Universe: The End #1 (May 2003): "Predestination"

Sgt. Fury and His Howling Commandos

X-Men Forever

Suggested links for further research about this character and the character's religious affiliation:
- http://www.imdb.com/character/ch0066837/
- http://www.comicvine.com/gabriel-jones/29-13836/
- http://marvel.wikia.com/wiki/Howling_Commandos_(WWII)_(Earth-616)
- http://www.comicboards.com/marvelguide/j.htm
- http://www.marvunapp.com/master/jon.htm
- http://comicbookdb.com/character.php?ID=52876
- http://www.marvunapp.com/master/npnz.htm
- http://en.wikipedia.org/wiki/Gabriel
- http://www.marvunapp.com/master/hooht.htm