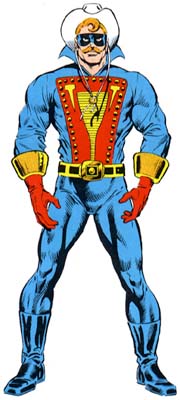 Texas Twister


Drew Daniels

Religion: not determined yet

Name: Texas Twister

Alter Ego: Drew Daniels

Classification:

hero
Publisher(s):

First Appearance: Fantastic Four (vol. 1) #177 (Dec. 1976): "Look Out for the Frightful Four!"
Creators: Roy Thomas, Mike Friedrich, George Pérez, Joe Sinnott
Super? (Has Super Powers/Special Abilities/Technology): Yes
Number of Appearances: 38
Teams/Affiliations: SHIELD Super-Agents; The Rangers; Thunderbolts Army
Birth Place: Amarillo, Texas, USA
Race: white
Gender: male
Although now better known as a member of the Rangers, Texas Twister first appeared in Captain America (vol. 1) #217 as a member of the SHIELD Super-Agents. Other members of the team were Blue Streak, Marvel Boy (Wendell Vaughn) and Vamp. This was a relatively short-lived team. It was disbanded in Captain America #230 after it was discovered that it had been infiltrated by agents of the nefarious secret organization known only as "the Corporation."
This character is in the following 15 stories which have been indexed by this website:

Avengers: The Initiative #1 (June 2007): "Happy Accidents"
(cameo)

Captain America

Civil War: Battle Damage Report #1 (Mar. 2007)

Fantastic Four (vol. 1) #177 (Dec. 1976): "Look Out for the Frightful Four!"

The Incredible Hulk (vol. 2) #265 (Nov. 1981): "You Can't Always Get What You Want, But If You Try Sometime You Just Might Find You Get What You Need!"

Marvel Super-Hero Contest of Champions #1 (June 1982): "A Gathering of Heroes!"

Scarlet Spider

Thunderbolts

Suggested links for further research about this character:
- http://en.wikipedia.org/wiki/Texas_Twister
- http://www.comicvine.com/texas-twister/29-10214/
- http://en.wikipedia.org/wiki/List_of_Thunderbolts_members
- https://www.comics.org/issue/30513/
- http://comicbookdb.com/issue.php?ID=28545
- http://www.comicboards.com/marvelguide/t.htm
- http://www.marvunapp.com/master/teotez.htm
- http://www.marvunapp.com/master/ramran.htm
- http://www.marvunapp.com/master/thosthz.htm
- http://www.marvunapp.com/master/shiashie.htm