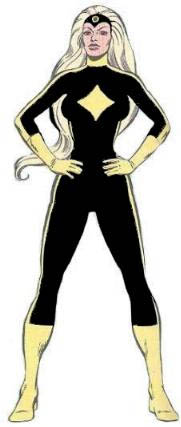 The Religious Affiliation of


Darkstar


Laynia Petrovna

Religion: Communist Party member; Christian (denomination unknown)

Name: Darkstar
Alter Ego: Laynia Petrovna
Other Names: Tyomni Zvezda; The Great Beast; Laynia Krylova
Classification:

hero
Publisher(s):

First Appearance: The Champions (vol. 1) #7 (Aug. 1976): "The Man Who Created the Black Widow"
Creators: Tony Isabella, George Tuska, Vince Colletta
Super? (Has Super Powers/Special Abilities/Technology): Yes
Number of Appearances: 116
Teams/Affiliations: Exiles (Russian); Republican Guard; Siberforce; The Champions; The People's Protectorate; The Soviet Super-Soldiers; Winter Guard; X-Corporation
Enemy of: Snow Wolf
Race: white
Gender: female
It was an alternative universe (Earth-4400) version of this character that was a member of the Republican Guard.
This character is in the following 37 stories which have been indexed by this website:

Captain America

The Champions

Daredevil

Hulk (vol. 3) #1 (Mar. 2008): "Who is the Hulk?"
(mentioned)

Iceman (vol. 1) #3 (Apr. 1985): "Quicksand!"
(cameo)

Marvel Comics Presents (vol. 1) #70 (Late Feb. 1991): "One into Three Won't Go"
(lead character)

Marvel Super-Hero Contest of Champions

Maximum Security

New X-Men

The Secret Defenders #11 (Jan. 1994): "Speed-Lines"
(cameo)

Soviet Super Soldiers #1 (Nov. 1992): "The Red Triangle Agenda"

Spider-Boy Team-Up #1 (June 1997): "Too Many Heroes -- Too Little Time"
(character based on)

Super-Villain Team-Up #14 (Oct. 1977): "A World For the Winning!"
(cameo)

Thunderbolts

X-Force (vol. 3) #21 (Jan. 2010): "Necrosha: Chapter Two"
(1-panel cameo)

X-Men

Suggested links for further research about this character and the character's religious affiliation:
- http://www.comicvine.com/darkstar/29-10990/
- http://www.marvel.com/universe/Communist_Party_(Soviet_Union)
- http://www.marvunapp.com/master/darkndarz.htm
- https://www.comics.org/issue/30106/
- http://comicbookdb.com/issue.php?ID=35086
- http://www.comicboards.com/marvelguide/d.htm
- http://www.marvunapp.com/master/siasik.htm
- http://www.marvunapp.com/master/x0xaxl.htm
- http://www.marvunapp.com/master/wimwin.htm
- http://www.marvunapp.com/master/pbpep.htm