BELOW: "Oh, thank God.": Against all odds, Rick Grimes travels from Kentucky and finds his family safe and well living in a camp on the outskirts of Atlanta. Rick woke up in a coma in a hospital in the previous issue, only to find himself in the middle of a zombie apocalypse. Within only a day or two, he has found his family: his wife Lori and his son Carl. Yet nearly everybody else in the country is apparently dead or has been turned into a zombie. Given the situation, Rick's quiet expression after finding his family - "Oh, thank God" - may be an actual expression of thanks to deity, rather than simply a routine profane utterance. Given the seeming improbability of Rick finding his family well and alive so quickly, one might wonder if this is an actual miracle, a sign of divine Providence, perhaps in answer to Rick's prayer on page 11 in the previous issue. The events depicted in this series are extraordinary and present genuine philosophical questions. Depending on one's perspective, one might see these events as anything from a divine miracle to evidence of God's non-existence or non-involvement with humanity.
Source: The Walking Dead #2 (Oct. 2003): "Days Gone Bye, Part 2", pg. 22, panel 3. Written by Robert Kirkman. Art by Tony Moore. See also: gratitude to God; miracles; family; Rick Grimes; Lori Grimes; Carl Grimes
BELOW: Thor calls Hank Pym's scientific achievement "miraculous": There is a certain irony in this scene. Thor, who is an actual deity, the Norse god of thunder, sees Hank Pym (Ant-Man) and Janet Van Dyne (the Wasp) change from insect-sized to human-sized, and then hears Dr. Pym explain his invention - the pills that allow them to change size. Thor calls this scientific achievement "miraculous." This could be viewed as an interesting inversion of the standard use of this word, in which a scientifically unexplainable and presumably divinely-caused event is referred to as "miraculous" or a "miracle."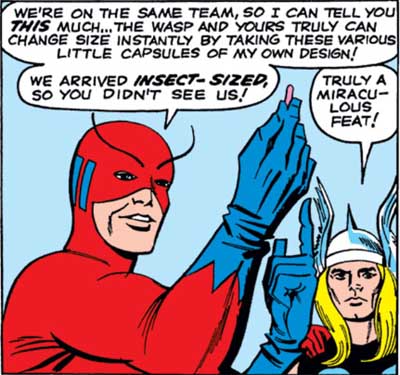 Source: The Avengers (vol. 1) #2 (Nov. 1963): "The Avengers Battle... the Space Phantom", pg. 2, panel 4. Written by Stan Lee. Art by Jack Kirby, Paul Reinman. See also: miracles; Thor (Donald Blake); Giant-Man (Hank Pym)