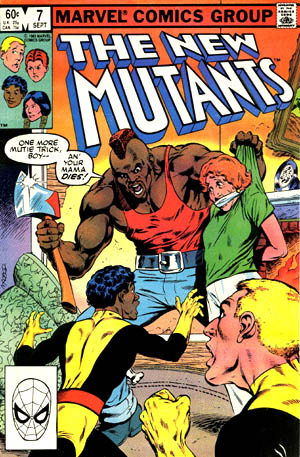 Cover Date: September 1983
Publisher: Marvel

Story 1:
Flying Down to Rio!
Pages: 22

Credits (as printed)
Writer: Chris Claremont
Penciler: Sal Buscema
Finishers: Bob McLeod
Letterer: Tom Orzechowski
Colorist: Glynis Wein
Editor: Louise Jones
Editor in Chief: Jim Shooter

Cover
Cover Price: 60¢
Cover Artist(s): Bob McLeod

Cover Blurb(s): word balloon spoken by Axe: "One more mutie trick, boy -- an' your Mama dies!"
Featured on Cover: Sunspot, Cannonball, Axe, Nina da Costa (Sunspot's mother)
Shown in Corner Box: Cannonball, Wolfsbane, Sunspot, Mirage (Danielle Moonstar)

Letter column: yes

Summary
With the help of the X-Men, the New Mutants have been searching for their missing team-mate Karma in Big Sur, California. Karma has not been found since all of the New Mutants were caught in an explosion triggered by the villains Viper and Silver Samurai last issue. Sunspot (Roberto DaCosta) is particularly distressed about about Karma's disappearance and presumed death. Roberto's mother Nina DaCosta arrives in Big Sur. An archaeologist, she was away on a dig when Roberto's powers emerged, and this is the first time they have seen each other since then. Nina invites all of the New Mutants to Brazil to accompany her on an archaeological expedition to the Maderia region at the headwaters of the Amazon. The remaining New Mutants (Roberto, Danielle Moonstar, Sam and Rahne) travel to Rio de Janiero, Brazil, going first to the DaCosta family's palatial estate. At dinner, Roberto's parents argue about the expedition. Roberto's father has sent people to the Maderia as part of his business interests, but he tells Nina that it is too dangerous for her to go there. The next day, while the New Mutants and Nina are shopping for Carnival costumes, Nina is abducted by Hellfire Club operatives, led by a villainous mutant mercenary who calls himself Axe. The New Mutants manage to track down the hideout where Roberto's mother was taken to, and they rescue her. As Nina and the New Mutants prepare to fly into the interior of Brazil, Roberto's father Emmanuel DaCosta is seen watching them, in the company of Sebastian Shaw, leader of the Hellfire Club. Roberto's own father had conspired with the Hellfire Club to try to prevent Nina from going on this expedition to the Maderia. After the Hellfire Club's failure to stop Nina, Emmanuel DaCosta tells Shaw that he will no longer need the Hellfire Club's help, and that he has his own plans in place to prevent Nina from going to the Maderia.