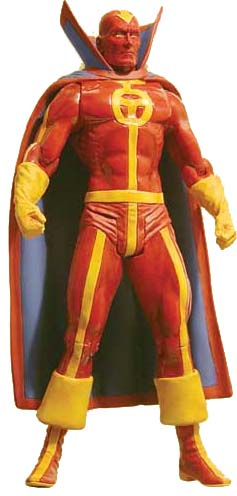 The Religious Affiliation of


Red Tornado


John Smith

Religion: religious android

Name: Red Tornado
Alter Ego: John Smith
Classification:

hero
Publisher(s):

First Appearance: Justice League of America (vol. 1) #64 (Aug. 1968): "The Stormy Return of the Red Tornado!"
Creators: Gardner F. Fox, Dick Dillin, Sid Greene
Super? (Has Super Powers/Special Abilities/Technology): Yes
Number of Appearances: 367
Comic Book Appearances: 364
TV, Film Appearances: 3
Teams/Affiliations: The Justice League; The Justice Society of America; The Leymen; Young Justice
Gender: male
This character is in the following 63 stories which have been indexed by this website:

Batman: The Brave and the Bold #1 (Mar. 2009): "The Panic of the Composite Creature"
(only on cover)

Catwoman (vol. 3) #77 (May 2008): "Waking Up On the Wrong Side of the Universe, Part Three"
(2-panel cameo)

JLA #5 (May 1997): "Woman of Tomorrow"
(mentioned)

Justice League of America

Justice League: Cry for Justice

Justice Society of America

Outsiders

Outsiders: Five of a Kind - Wonder Woman/Grace #1 (Oct. 2007): "Five of a Kind, Part 5: Member of the Tribe"

Red Tornado

Red Tornado: Family Reunion

The Super Friends (vol. 1) #8 (Nov. 1977): "The Mind Killers!"

World's Finest Comics (vol. 1) #272 (Oct. 1981): "Winds of Change"
(lead character)

Young Justice - Season 1, Episode 1 (26 Nov. 2010): "Independence Day"

Suggested links for further research about this character and the character's religious affiliation:
- http://en.wikipedia.org/wiki/Red_Tornado
- http://www.imdb.com/character/ch0074830/
- http://www.comicvine.com/red-tornado/29-1688/
- http://www.dcuguide.com/who.php?name=redtornado2
- http://www.dcuguide.com/chronology.php?name=redtornado2