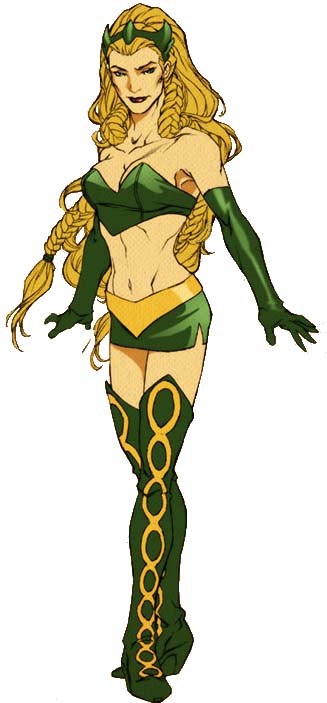 The Religious Affiliation of


Enchantress


Sylvie Lushton

Religion: Norse/Teutonic paganism

Name: Enchantress
Alter Ego: Sylvie Lushton
Other Names: Enchantress II
Classification:

villain
Publisher(s):

First Appearance: Dark Reign: Young Avengers #1 (July 2009): "Young Masters: Part One"
Creators: Paul Cornell, Mark Brooks
Super? (Has Super Powers/Special Abilities/Technology): Yes
Number of Appearances: 5
Teams/Affiliations: Young Masters of Evil
Enemy of: Young Avengers
Location: New York City, New York, USA
Planet: Asgard, The Nine Worlds
Gender: female
It is quite possible that "Sylvie Lushton" is simply a made-up alias. In Dark Reign: Young Avengers #3, the new "Enchantress" told Yong Avengers Hulkling and Wiccan that she was really a regular American girl from Broxton, Oklahoma. But she later told her fellow teammates on the "new Young Avengers" team (i.e., the "Young Mastes of Evil") that she had pretended to be human while with Hulking and Wiccan, suggesting that she really is an Asgardian. As confusing as it may seem, it seems that she is an Asgardian pretending to be a human who is pretending to be an Asgardian.
This character is in the following 6 stories which have been indexed by this website:

Avengers Assemble (vol. 1) #1 (July 2010)

Dark Reign: Young Avengers

Suggested links for further research about this character and the character's religious affiliation:
- http://comicbookdb.com/character.php?ID=32218
- http://comicbookdb.com/issue.php?ID=170201
- http://comicbookdb.com/issue.php?ID=172551