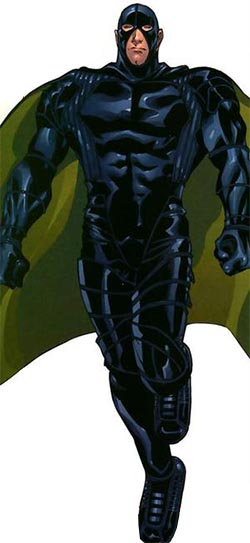 The Religious Affiliation of


Ethan Edwards


Religion: Protestant

Name: Ethan Edwards
Other Names: Virtue; The Tiller; Moral Man; "Leatherface"
Classification:

hero
Publisher(s):

First Appearance: Marvel Knights Spider-Man #13 (June 2005): "Wild Blue Yonder, Part One"
Creators: Reginald Hudlin, Billy Tan, Jon Sibal
Super? (Has Super Powers/Special Abilities/Technology): Yes
Number of Appearances: 7
Enemy of: Spider-Man, Galactus
Ally: Mr. Edwards
Ally: Mrs. Edwards
Worked for: The Daily Bugle
Location: Hicksville, Iowa, USA; New York City, New York, USA
Birth Place: Skrull Empire
Race: Skrull
Gender: male
Note: based on Clark Kent/Superman, with Skrull twist
Ethan Edwards was born as a Skrull in an unnamed planet in the Skrull empire. But his father sent him to Earth as an infant to save him from the destruction of his planet, which was consumed by Galactus.
Edwards was raised by adoptive human parents on a farm in Iowa.
As a super-hero, Ethan Edward first called himself "Virtue." He then decided to call himself "The Tiller," but said he might go with "Moral Man." None of these codenames were widely known or adopted during his extremely brief career as a superhero.
Excerpts
BELOW: Ethan Edwards asks Peter Parker if he has prayed today: New star reporter Ethan Edwards is a direct Superman parody who J. Jonah Jameson has partnered with Peter Parker (a.k.a. Spider-Man). Edwards is a deeply, sincerely religious Protestant Christian. Seeing that Peter Parker looks a little down, he asks his co-worker if he has prayed. Ethan adds, "I don't know if you're religious, or what your faith is, but you'd be surprised what a little faith would do."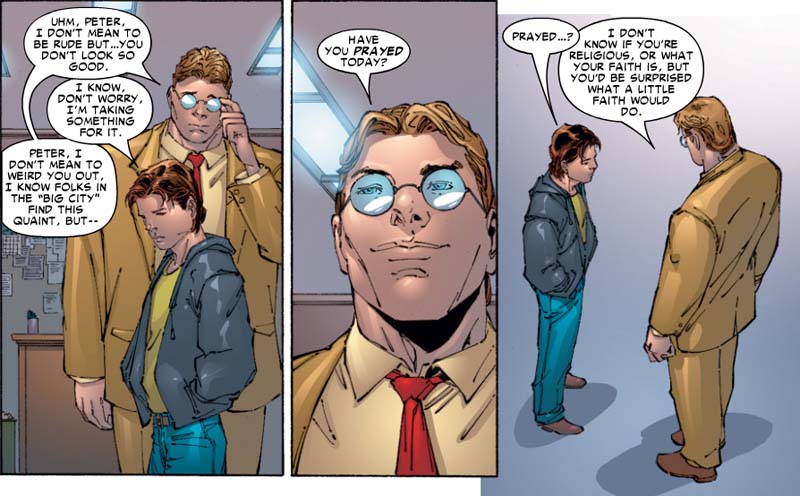 Source: Marvel Knights Spider-Man #14 (July 2005): "Wild Blue Yonder, Part Two", pg. 10, panels 4-6. Written by Reginald Hudlin. Art by Billy Tan, Jon Sibal. See also: faith; prayer; religious (the word "religious"); Protestant; Spider-Man (Peter Parker); Ethan Edwards
BELOW: Spider-Man prays with Superman: Well, almost. The new star reporter at the Daily Bugle is a direct Superman parody. Deeply religious, he pulls his co-worker Peter Parker (a.k.a. Spider-Man) into a closet in order to pray to the Lord. Ethan is secretly arranging an opportunity to use his healing powers on Peter, but his deep religiosity and his sentiments about prayer are sincere, as seen in the following issues. Ethan tells Peter, "Open your heard to the Lord." Ethan also advises, "Don't underestimate the power of prayer, Peter." A fascinating reveal comes at the end of Marvel Knights Spider-Man #18: Reed Richards researched Ethan Edwards extensively and found that the ability to heal others was NOT among the powers he had been imbued with by his father. The last page of issue #18 reveals that Ethan's power to heal really did come from prayer.
Source: Marvel Knights Spider-Man #14 (July 2005): "Wild Blue Yonder, Part Two", pg. 11, panels 1-7. Written by Reginald Hudlin. Art by Billy Tan, Jon Sibal. See also: God; prayer; Protestant; Spider-Man (Peter Parker); Ethan Edwards
This character is in the following 6 stories which have been indexed by this website:

Marvel Knights Spider-Man

Suggested links for further research about this character and the character's religious affiliation:
- http://marvel.wikia.com/Ethan_Edwards_(Earth-616)
- http://comicbookdb.com/character.php?ID=8604
- http://www.marvunapp.com/master/ebef.htm
- http://www.marvunapp.com/master/sjskr.htm
- http://www.comiccollectorlive.com/LiveData/Character.aspx?id=8309bd38-f022-4ab9-b668-857c14652d2f
- https://www.comics.org/issue/233286/
- http://comicbookdb.com/issue.php?ID=8999
- http://marvel.wikia.com/Marvel_Knights:_Spider-Man_Vol_1_13
- http://www.comicvine.com/marvel-knights-spider-man-wild-blue-yonder-part-1/37-104439/