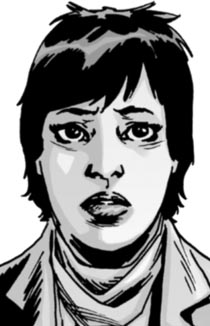 The Religious Affiliation of


Maggie Greene


Religion: Protestant

Name: Maggie Greene
Other Names: Maggie Rhee; Maggie Greene Rhee
Classification:

supporting character
Publisher(s):

First Appearance: The Walking Dead #10 (July 2004): "Miles Behind Us, Part 4"
Creators: Robert Kirkman, Charlie Adlard, Lauren Cohan (actress)
Number of Appearances: 111
Comic Book Appearances: 74
TV, Film Appearances: 37
Enemy of: zombies
Romantic Interests: Glenn Rhee, Maggie's ex-boyfriend
Family/Relatives: Glenn Rhee (husband), Hershel Greene (father)
Occupation: farmhand
Location: Greene farm, Georgia, USA
Race: white
Gender: female
Note: Hershel's daughter; Glenn's girlfriend, then wife
Maggie Greene is the second-oldest daughter of Hershel Greene, who is one of the most religious characters in The Walking Dead series. She is less religious than her father, but the family faith is still an important part of her background. In the comic book series and TV series, Hershel's precise denominational affiliation is never revealed, but he is clearly Christian, and apparently Protestant.
Excerpts
BELOW: Hershel Greene is furous when he finds his 19-year-old daughter in bed with Glenn: Hershel Greene is portrayed as a fairly religious man, one of the most overtly religious characters thus far in "The Walking Dead" series. He has been generous to Rick Grimes' and his band of zombie apocalypse survivors in allowing them to stay on his property and in his family's home. It is not surprising that he is furious when he finds his daughter in bed with a member of Rick's group.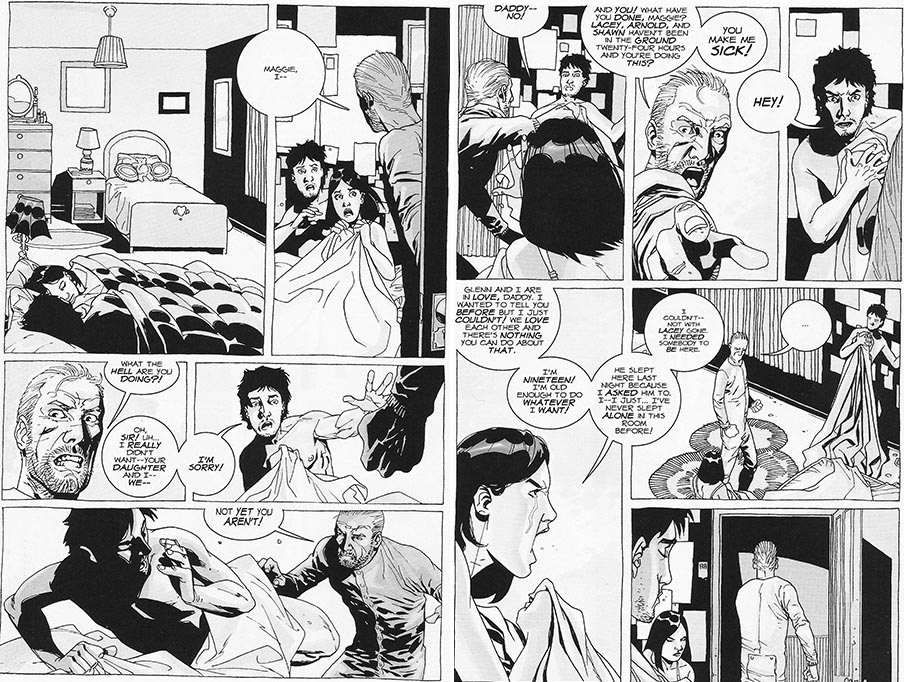 Hershel: Maggie, I-- What the hell are you doing?!

Glenn: Oh, sir! Uh... I really didn't want--your daughter and I-- We-- I'm sorry!

Hershel: Not yet you aren't!

Maggie: Daddy-- No!

Hershel: And you! What have you done, Maggie? Lacey, Arnold, and Shawn haven't been in the ground twenty-four hours and you're doing this? You make me sick!

Glenn: Hey!

Maggie: Glenn and I are in love, Daddy. I wanted to tell you before but I just couldn't! We love each other and there's nothing you can do about that. I'm nineteen! I'm old enough to do whatever I want! He slept here last night because I asked him to. I--I just... I've never slept alone in this room before! I couldn't-- Not with Lacey gone. I needed somebody to be here.
Source: The Walking Dead #12 (Sep. 2004): "Miles Behind Us, Part 6", pg. 2-3. Written by Robert Kirkman. Art by Charlie Adlard. See also: sexual morality; Glenn Rhee; Hershel Greene; Maggie Greene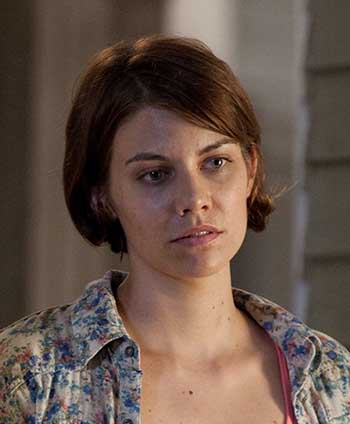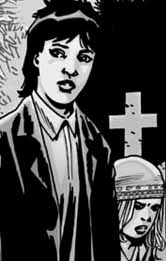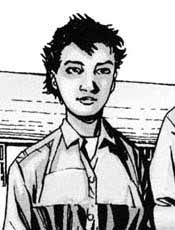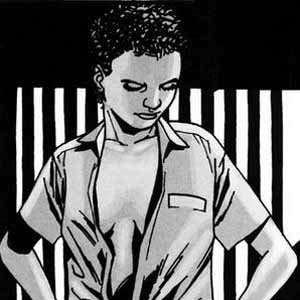 This character is in the following 3 stories which have been indexed by this website:

The Walking Dead

Suggested links for further research about this character and the character's religious affiliation:
- http://walkingdead.wikia.com/wiki/Maggie_Greene_(TV_Series)
- http://walkingdead.wikia.com/wiki/Maggie_Greene_(Comic_Series)
- http://www.comicvine.com/maggie-greene/4005-58918/
- http://comicbookdb.com/character.php?ID=23609
- http://www.imdb.com/character/ch0252696/
- http://imagecomics.wikia.com/wiki/The_Walking_Dead_Vol_1_10
- http://comicbookdb.com/issue.php?ID=2426
- http://www.comiccollectorlive.com/LiveData/Issue.aspx?id=652aa182-09ef-4120-b462-2c7a5658da89