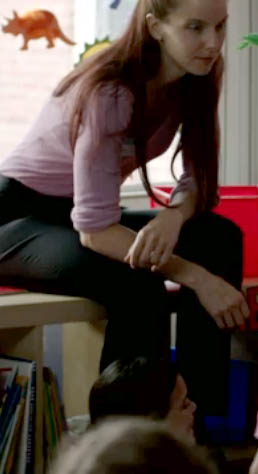 Miss Jones


Religion: not determined yet

Name: Miss Jones

Other Names: unnamed teacher

Classification:

supporting character
Publisher(s):

First Appearance: Hostages - Season 1, Episode 3 (7 Oct. 2013): "Power of Persuasion"
First Appearance (Additional Details): (seen, maybe) Hostages - Season 1, Episode 3 (7 Oct. 2013): "Power of Persuasion"; (named) Hostages - Season 1, Episode 4 (14 Oct. 2013): "2:45 PM"
Creators: Rick Eid, Jeffrey Nachmanoff, Henry Bronchtein
Number of Appearances: 1
Occupation: teacher
Taught: Sawyer Carlisle, Danica Barry
Worked for: Holly Oak Elementary School
Location: Bethesda, Maryland, USA
Race: white
Gender: female
Note: Sawyer Carlisle's homeroom teacher
When Dr. Ellen Sanders went to the school of Duncan Carlisle's daughter Sawyer, Sawyer's teacher can be seen sitting next to where Sawyer was in the class. She has no lines and is not credited in the onscreen credits.
Possibly this woman is not the teacher of the class. She could be a volunteer or teacher's aide, or a visiting parent. But she is just sitting, watching students, without interacting with anybody, which one would think she would do if she was a visiting parent. It is possible that she is not the teacher of this class, but no other more likely candidate appears in the episode.
Realistically speaking, this particular actress (who was seen in the scene sitting at the widow when Dr. Sanders looked over at Sawyer) was just an extra. The same woman was seen standing up a few minutes later when Dr. Sanders and other parents prepared to leave this classroom and go over to the main student art exhibit for the art festival. This particular actress may have been intended as a parent.
But Sawyer's classroom must have a teacher, and her teacher's name was revealed in the next episode. In the fourth episode of the "Hostages" TV series, Sawyer's father Duncan Carlisle visited his wife in the hospital. He told her: "So, I got a call from Miss Jones. Apparently, Sawyer got in a fight with Danica Barry yesterday."
Nina (Sawyer's mother) said: "That little snot probably deserved it."