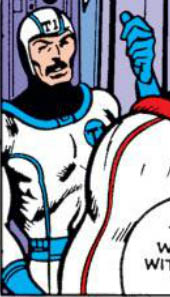 The Religious Affiliation of


unnamed technician


Religion: anti-mutant

Name: unnamed technician
Other Names: Technician; T1
Classification:

supporting character

villain
Publisher(s):

First Appearance: X-Men (vol. 1) #98 (Apr. 1976): "Merry Christmas, X-Men..."
Creators: Chris Claremont, Dave Cockrum, Sam Grainger
Number of Appearances: 1
Occupation: technician
Worked for: Steven Lang, Project Armageddon
Race: white
Gender: male
Note: tells Lang of high solar radiation levels
An unnamed technician working on the Project Armageddon orbital satellite informed his boss, Dr. Steven Lang, of high solar radiation levels. He pointed out that due to these radiation levels, they will have to shut down Sentinel operations for a time.
Lang said: "Understood, technician." Then Lang said that they will make do with the mutants they have already captured.
This prompted the technician to wonder aloud if Wolverine (one of the mutants they had captured) was actually a mutant. The technician pointed out to Lang that the readings they took with their instruments when they scanned Wolverine are unlike anything they have seen with the other mutants.
This reference was a remnant of an earlier idea on the part of the X-Men writers that Wolverine would be revealed as an actual Wolverine he had been mutated by the High Evolutionary into the form of a human. That idea was dropped, however, before the concept was every fully revealed in the comics.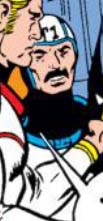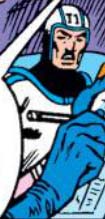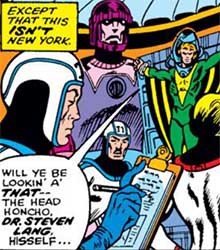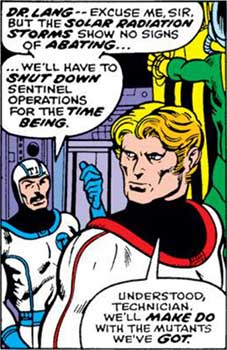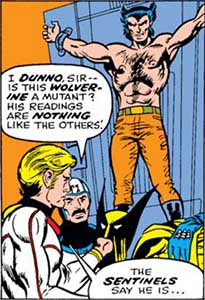 This character is in the following 3 stories which have been indexed by this website:

Classic X-Men #6 (Feb. 1987): "Merry Christmas, X-Men..."
(5-panel cameo)

X-Men

Suggested links for further research about this character and the character's religious affiliation:
- http://uncannyxmen.net/comics/issue/x-men-1st-series-98