Religion: Navajo traditional religion

Name: Red Arrow
Alter Ego: Roy Harper Jr.
Other Names: Speedy; Arsenal; Roy Harper; Roy William Harper Jr.
Classification:
hero
Publisher(s):

First Appearance: More Fun Comics #73 (Nov. 1941): "Case of the Namesake Murders"
Creators: Mort Weisinger, George Papp
Number of appearances: 668
Comic book appearances: 659
TV, film appearances: 8
Video game, computer game appearances: 1
Teams/Affiliations: Teen Titans; Checkmate; Seven Soldiers of Victory; Central Bureau of Intelligence; Outsiders; Justice League
Gender: male
Note: was freelance operative for Checkmate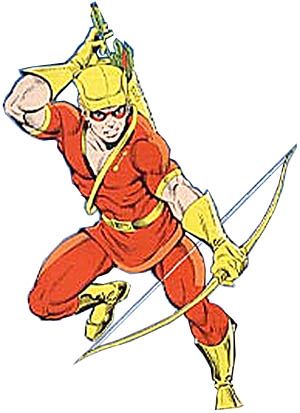 This character is in the following 110 stories which have been indexed by this website:


Action Comics Weekly


Adventure Comics

America vs. the Justice Society

Aquaman Secret Files & Origins #1 (Dec. 1998): "Left for Dead"

Armageddon 2001 #2 (Oct. 1991): "Conclusion"

Catwoman (vol. 3) #77 (May 2008): "Waking Up On the Wrong Side of the Universe, Part Three"
(2-panel cameo)

DC Heroes Secret Files & Origins #1 (Feb. 1999): "6 Degrees of the DCU"

DC One Million

Deathstroke, the Terminator

Genesis #1 (Oct. 1997): "Resonance"
(cameo)

Justice League of America

Justice League: Cry for Justice

Justice Society of America (vol. 3) #6 (July 2007): "The Lightning Saga, Chapter Four: Three Worlds"

Leading Comics #3 (Summer 1942): "The Tyrants of Time!"

More Fun Comics #73 (Nov. 1941): "Case of the Namesake Murders"

New Titans #114 (Sep. 1994): "24 Hours"

Nightwing (vol. 2) #52 (Feb. 2001): "Modern Romance"
(1-panel cameo)

Outsiders

Teen Titans

Teen Titans / Outsiders Secret Files 2003

Teen Titans and Outsiders Secret Files and Origins 2005

The Teen Titans Drug Awareness Special #1 (1983): "Plague!"

Teen Titans: Year One

Wonder Woman (vol. 2) #175 (Dec. 2001): "The Witch and the Warrior, Part Two: Girl Frenzy"

World's Finest Comics

Suggested links for further research about this character:
- http://www.adherents.com/lit/comics/RedArrow.html
- http://www.imdb.com/character/ch0030595/
- http://www.comicvine.com/roy-harper/29-3404/
- http://www.dcuguide.com/who.php?name=speedyga
- http://www.dcuguide.com/chronology.php?name=speedyga
- http://www.dcuguide.com/who.php?name=redarrow
- http://www.dcuguide.com/chronology.php?name=redarrow
- http://www.dcuguide.com/who.php?name=arsenal4
- http://www.comics.org/issue/1751/