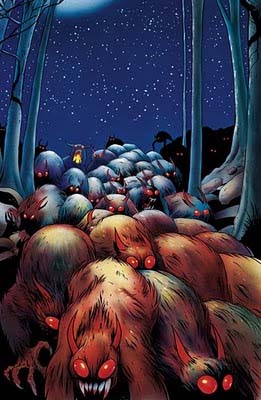 The Religious Affiliation of


Rat Creatures


Religion: Rat Creatures

Name: Rat Creatures
Other Names: The Rats; The Hairy Men
Classification:

villains

group
Publisher(s): Cartoon Books
First Appearance: ("Stupid, Stupid" pair) Bone #1 (July 1991); (rat creature horde) Bone #4 (Mar. 1992)
Creators: Jeff Smith
Number of Appearances: 10
Enemy of: Fone Bone, Thorn, Gran'ma Ben
Type of Organization/Group: hidden race, soldier
Worked for: Kingdok, The Hooded One
Nation: The Valley
"Rat Creatures" are a race of strange beings who resemble rats in some ways, but clearly are not regular rats. Even beyond their immense size (they are larger than humans), they have features that are not rat-like, such as their horns. Thus, we have not classified them as simply "uplifted animals." They are sentient beings, apparently as intelligent as humans. They converse normally with the other inhabitants of the valley, including humans.
There are thousands of rat creatures who live in the valley. There is literally a horde or army of rat creatures who follow their leader, Kingdok.
The rat creatures appear to be fairly religious as well as superstitious. Their leader Kingdok's superstitious nature has been used to manipulate him by the Hooded One, who Kingdok and the rat creatures serve. The Hooded One comports himself as a sort of prophet or religious leader before the rat creatures, even using ritual paraphernalia such as candles, a scythe, and an altar with burning coals. The Hooded One is human, but the rat creatures seem to look to him as a leader and religious figure.
The race referred to by other characters as "rat creatures" was first seen in the Bone series not as a great horde but as a pair of rat creatures interested in capturing and eating Fone Bone. The series protagonist first ran into two rat creatures soon after arriving in the valley. He called this pair "stupid, stupid rat creatures," and this pair subsequently became known by that name. The phrase "Stupid, Stupid Rat Creatures" thus refers to a specific pair of rat creatures, and not to the entire race.
Number of group members listed below: 2
Character
(Click links for info about character
and his/her religious practice, affiliation, etc.)
Religious
Affiliation
Team(s)


[Notes]

Pub.
#
app.

| | |
| --- | --- |
| | rat creature (leader); superstitious |

Rat Creatures

Cartoon Books

17
[

]

Cartoon Books

10