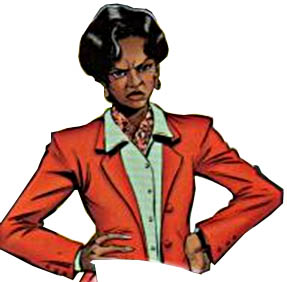 Denise Metcalf


Religion: not determined yet

Name: Denise Metcalf

Other Names: Congresswoman Metcalf

Classification:

supporting character
First Appearance: Hardware #1 (Apr. 1993): "Angry Black Man"
Creators: Dwayne McDuffie, Denys Cowan, Jimmy Palmiotti
Number of Appearances: 4
Ally: Hardware
Ally: Mitchell Metcalf
Occupation: activist, U.S. Representative
Race: black
Gender: female
Note: Hardware's mother; community activist
Summary of Hardware #41 (July 1996), from now-defunct webpage at http://milestone.luthor.com/comics_detail.asp?ID=173&:
Hardware breaks free of Top Dog's control before he kills his father Detective Metcalf. Hardware and Detective Metcalf escape Top Dog and then find proof that he has been committing murders all over town. We are introduced to Congresswoman Metcalf, (Curtis's mom). She is the head of a technology wing in congress. Top Dog tries to double-cross Detective Metcalf and Hardware. They end up catching the Top Dog red-pawed!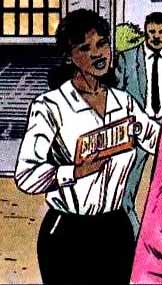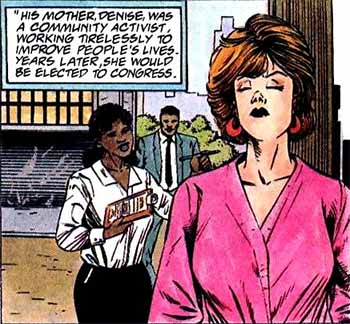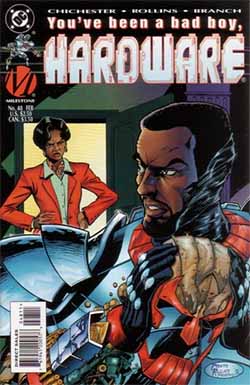 This character is in the following 8 stories which have been indexed by this website:

Hardware

Hardware: The Man in the Machine

Suggested links for further research about this character:
- http://dc.wikia.com/wiki/Denise_Metcalf_(Dakotaverse)
- http://comicbookdb.com/character.php?ID=53699
- http://comicbookdb.com/issue.php?ID=45635
- http://dc.wikia.com/wiki/Hardware_Vol_1_1