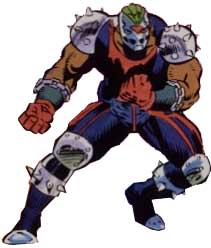 The Religious Affiliation of


Rage


Elvin Daryl Haliday

Religion: Protestant

Name: Rage
Alter Ego: Elvin Daryl Haliday
Other Names: Blacksmith; Elvin Daryl Holliday; Eldon Daryl Haliday
Classification:

hero
Publisher(s):

First Appearance: Avengers (vol. 1) #326 (Nov. 1990): "Wind from the East"
Creators: Larry Hama, Paul Ryan, Tom Palmer
Super? (Has Super Powers/Special Abilities/Technology): Yes
Number of Appearances: 157
Teams/Affiliations: Counter Force; Initiative: Camp Hammond; Psionex; The Avengers; The New Warriors
Race: black
Gender: male
Rage's only family was the devoutly religious Granny Staples, who taught him to use his powers for good rather than vengeance.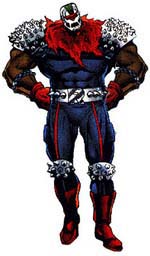 Discussion
From: "Atheist representation on the Avengers" forum discussion, started 20 June 2001 on the Comic Boards website (http://www.comicboards.com/avengers/view.php?rpl=010620201053; viewed 24 May 2007):
Posted by D-Man on Wednesday, June 20 2001 at 20:10:53 GMT

...Probably the best comic you could find to figure out who believes in a God or a god, or has deep faith in God or a god would be:

Infinity Crusade
The Goddess uses the heroes' faith and belief in gods and such to recruit heroes.

Here are a list of Avengers who are "believers" so are recruited by the Goddess:
Living Lightning
Black Knight
Hercules
Sersi
Invisible Woman
Spider-Man
Quicksilver
Wonder Man
Captain America
Thor
Crystal
Moondragon
USAgent
Scarlet Witch
Moon Knight

The so-called "non-believers" that the Goddess didn't choose:
Vision
Mr. Fantastic
Thing
She-Hulk
Rage
Hulk
Iron Man
Spider-Woman II
Firestar
Darkhawk
Beast (although Beast claims to believe in a god, but Vision counters with "Obviously because your belief in a supreme being is not as deeply felt nor well known as the others.")
Quasar (which was stated in his own book)
This character is in the following 24 stories which have been indexed by this website:

Avengers

Avengers Assemble (vol. 1) #1 (July 2010)

Avengers: The Initiative

Captain America

Civil War: Battle Damage Report #1 (Mar. 2007)

The Mighty Avengers

Moon Knight Saga (Oct. 2009)
(1-panel cameo)

Thunderbolts (vol. 1) #8 (Nov. 1997): "Songbird: Alone!"

Suggested links for further research about this character and the character's religious affiliation:
- http://www.adherents.com/lit/comics/Rage.html
- http://www.marvel.com/universe/Rage
- http://en.wikipedia.org/wiki/Rage_(comics)
- http://www.comicvine.com/rage/29-2097/
- http://comicbookdb.com/character.php?ID=3975
- http://comicbookdb.com/issue.php?ID=23495
- https://www.comics.org/issue/48718/
- http://www.comicboards.com/marvelguide/r.htm
- http://www.marvunapp.com/master/raarag.htm
- http://www.marvunapp.com/master/nesnh.htm