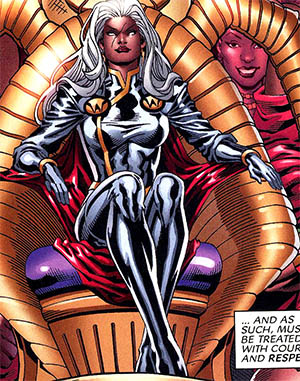 Perfect Storm


Ororo Munroe (clone)

Religion: not determined yet

Name: Perfect Storm

Alter Ego: Ororo Munroe (clone)

Other Names: Storm; Storm clone; Ororo Munroe (Bio-Synth)

Classification:

villain
Publisher(s):

First Appearance: X-Men Forever (vol. 2) #Alpha (July 2009): "New Dawn, New Day!"
Creators: Chris Claremont, Tom Grummett, Cory Hamscher
Super? (Has Super Powers/Special Abilities/Technology): Yes
Number of Appearances: 15
Teams/Affiliations: X-Men; The Consortium
Occupation: adventurer, queen, spy
Location: Westchester County, New York, USA
Nation: Wakanda
Race: black
Gender: female
Note: evil clone of Storm
"Perfect Storm" is the name eventually applied to a bio-synthetic clone of the original Storm. This clone infiltrated the X-Men on behalf of the evil group known as "the Consortium." This evil clone of Storm first appeared in X-Men Forever (vol. 2) #Alpha (July 2009).
X-Men Forever (vol. 2) #Alpha (July 2009) and X-Men Forever (vol. 2) #1 (Aug. 2009) marked the beginning of an ongoing series in which legendary X-Men scribe Chris Claremont continued writing stories of the X-Men, picking up from where he left the series many years before. This series was not locked into the continuity that had been established by the writers that followed Claremont. The X-Men Forever stories thus constituted an alternative reality or timeline (classified as "Earth-161") instead of mainstream Marvel continuity ("Earth-616").
In the prologue story in X-Men Forever #Alpha and in the full-length story in X-Men Forever #1 (Aug. 2009), the bio-synch clone of Storm appears to be a longstanding member of the X-Men team. The X-Men are completely unaware of the fact that the Storm they know is not the original Storm. Furthermore, readers at the time were unaware that this was not the real Storm. She looked and acted like the original, except the she seemed unusually angry and prone to violence.
As the X-Men Forever series progressed, Storm's actions seemed more and more out of character, and she was eventually revealed to be a clone.