The Religious Affiliation of


Black Cat


Felicia Hardy

Religion: Catholic

Name: Black Cat
Alter Ego: Felicia Hardy
Other Names: Felicia Harmon
Classification:

hero
Publisher(s):

First Appearance: The Amazing Spider-Man (vol. 1) #194 (July 1979): "Never Let the Black Cat Cross Your Path!"
Creators: Marv Wolfman, Keith Pollard, Frank Giacoia
Super? (Has Super Powers/Special Abilities/Technology): Yes
Number of Appearances: 374
Comic Book Appearances: 338
TV, Film Appearances: 32
Video Game, Computer Game Appearances: 4
Teams/Affiliations: Heroes for Hire
Romantic Interest: Spider-Man
Occupation: cat burglar
Birth Place: Queens, New York City, New York, USA
Race: white
Gender: female
Excerpts
BELOW: Black Cat touts the benefits of her "good Catholic School education": The Black Cat has a long history of working as a cat burglar and a mercenary for questionable employers. Despite her efforts to reform and work more as a hero, is clear that as an adult she has not been a practicing Catholic. Yet her reference to a Catholic School education may hint at having been raised Catholic. Oddly enough, Spider-Man here calls Black Cat "Miss Kyle" instead of by her actual name (Miss Hardy), in an apparent reference to DC Comics' Catwoman (Selina Kyle), who has been explicitly identified as a non-practicing Catholic.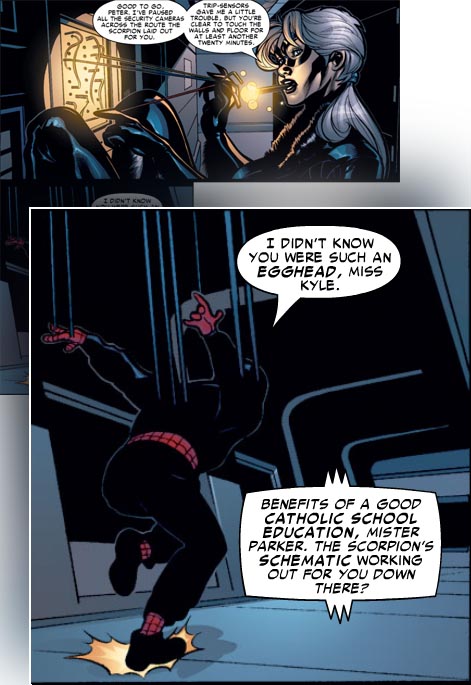 Source: Marvel Knights Spider-Man #10 (Mar. 2005): "Last Stand: Part 2", pg. 11, panel 3. Written by Mark Millar. Art by Rachel Dodson, Terry Dodson. See also: Catholic school; Catholic; Black Cat (Felicia Hardy)
This character is in the following 60 stories which have been indexed by this website:

The 3-Minute Sketchbook #1 (Oct. 2007)

The Amazing Spider-Man

Astonishing X-Men/Amazing Spider-Man: The Gauntlet Sketchbook (Sep. 2009)

Civil War: Battle Damage Report #1 (Mar. 2007)

Claws

Dark Avengers #5 (Aug. 2009)
(photo/picture/video)

GLA #2 (July 2005): "Dismembership Drive"
(only on cover)

Heroes for Hire

House of M #4 (Sep. 2005)

Marvel Comics Presents (vol. 1) #57 (Late Aug. 1990): "The Crown Jewel Caper"
(lead character)

Marvel Fanfare (vol. 1) #37 (Apr. 1988)

Marvel Knights 4 #23 (Dec. 2005): "Impossible Things Happen Every Day, Part 1"
(photo/picture/video)

Marvel Knights Spider-Man

Marvel Team-Up

Marvel Universe: Millennial Visions #1 (Feb. 2002): "Defenders of the Galaxy"

Marvel Universe: The End #6 (Aug. 2003): "The Cure"

Peter Parker, The Spectacular Spider-Man Annual #4 (Nov. 1984): "Cat and Mouse"
(lead character)

Spider-Man / Black Cat: The Evil That Men Do #1 (Aug. 2002): "What's New, Pussycat?"
(lead character)

Spider-Man Unlimited

Web of Spider-Man

Young Allies (vol. 2) #6 (Jan. 2011): "A Change of Mind"
(1-panel cameo)

Suggested links for further research about this character and the character's religious affiliation:
- http://en.wikipedia.org/wiki/Black_Cat_(comics)
- http://www.imdb.com/character/ch0001379/
- http://www.comicvine.com/black-cat/29-1479/
- http://www.marvunapp.com/master/black0af.htm
- http://www.comicboards.com/marvelguide/b2.html
- http://www.comicboards.com/marvelguide/MC2Handbook/hmc2.html