The Eel


Leopold Stryke

Religion: not determined yet

Name: The Eel

Alter Ego: Leopold Stryke

Other Names: Eel I

Classification:

villain
Publisher(s):

First Appearance: Strange Tales #112 (Sep. 1963)
Creators: Stan Lee, Steve Ditko
Super? (Has Super Powers/Special Abilities/Technology): Yes
Number of Appearances: 30
Teams/Affiliations: Crime Wave; Emissaries of Evil (Egghead); Fellowship of Fear; Serpent Squad
Enemy of: Angela Parish
Ally: Porcupine
Ally: Scarecrow
Ally: Plantman
Worked for: Count Nefaria, Cowled Commander
Gender: male
Among his other many villainous exploits, the Eel was a member of the short-lived super-villain team "Crime Wave," which was organized by the Cowled Commando (secretly NYPD police sergeant Brian Muldoon) as a way to push the city to provide a stronger police force. Crime Wave appeared in Captain America (vol. 1) #s 157-159.
In Captain America (vol. 1) #163, three serpent-themed villains (Viper, the Eel, and Cobra) banded together to form the "Serpent Squad." Their goal was to get revenge on Captain America and the Falcon for past defeats.
A second incarnation of the Serpent Squad appeared in Captain America #s 180-182, comprised of Viper (Dixon), the Eel, Princess Python, Cobra and Krang. The group tried to use the Serpent Crown to take over the world.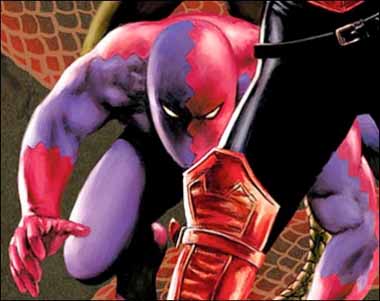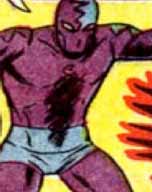 This character is in the following 27 stories which have been indexed by this website:

Captain America

Captain America: The Legend #1 (Sep. 1996)

Daredevil (vol. 1) #6 (Feb. 1965): "Trapped by... The Fellowship of Fear!"

The Defenders

The Uncanny X-Men (vol. 1) #138 (Oct. 1980): "Elegy"
(1-panel cameo)

Untold Tales of Spider-Man

The X-Men

Suggested links for further research about this character:
- http://comicbookdb.com/character.php?ID=1798
- http://marvel.com/universe/Eel_(Leopold_Stryke)
- http://www.marvel.com/universe/Serpent_Squad
- http://www.marvunapp.com/master/ebef.htm
- http://www.marvunapp.com/Appendix3/emissariesofevilegg.htm
- http://www.comicboards.com/marvelguide/e.htm
- http://www.marvunapp.com/master/cracri.htm
- http://www.comicboards.com/marvelguide/c4.html
- http://www.marvunapp.com/master/seosg.htm