The Religious Affiliation of


Elasti-Girl


Rita Farr

Religion: Protestant

Name: Elasti-Girl
Alter Ego: Rita Farr
Other Names: Elasti-Woman
Classification:

hero
Publisher(s):

First Appearance: My Greatest Adventure #80 (June 1963): "The Doom Patrol"
Creators: Arnold Drake, Bob Haney, Bruno Premiani
Super? (Has Super Powers/Special Abilities/Technology): Yes
Number of Appearances: 149
Comic Book Appearances: 147
TV, Film Appearances: 2
Teams/Affiliations: The Doom Patrol
Occupation: actress, film star
Location: Hollywood, Los Angeles, California, USA; Midway City, Michigan, USA
Race: white
Gender: female
Rita Farr, the super-heroine known as "Elasti-Girl" (and sometimes "Elasti-Woman") was a famous Hollywood film star before the accident which gave her super-powers. Thinking herself a "freak," Farr retreated from acting and became a founding member of the Doom Patrol, a super-team.
Rita Farr has never been portrayed as overtly religious; nor has she been portrayed as irreligious. Her ethics, morality and religiosity seem fairly typical for mainstream superhero characters introduced in the early 1960s.
Based on the appearance of the wedding and the minister chosen to conduct the wedding ceremony between Rita Farr and Steve Dayton ("Mento") in Doom Patrol #104 (June 1966), it is reasonable to conclude that Farr is a Protestant, at least nominally so. The minister appears to be a mainstream Protestant Christian. The minister and the wedding appear fairly generic. One can rule out some specific denominations: One can be fairly certain that the minister and wedding are NOT Eastern Orthodox, Catholic, Episcopalian, Latter-day Saint, or Jehovah's Witness, for example.
This wedding doesn't really say much about Rita Farr's religiosity, other than suggest the religious affiliation she most identifies with. Although less likely, the minister and church may have even been chosen by Farr's husband-to-be, Steve Dayton. Religious affiliation was typically a taboo subject in comics during this time and overt portrayals of religiosity were rare, even with characters the writers regarded as typically religious. Rita Farr's strong ethical values and heroism, including her frequent desire to defend the weak and defenseless, may be the best indicators of her beliefs and character.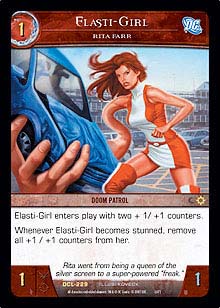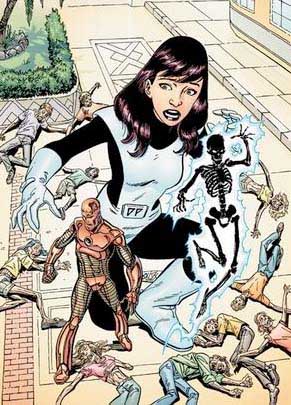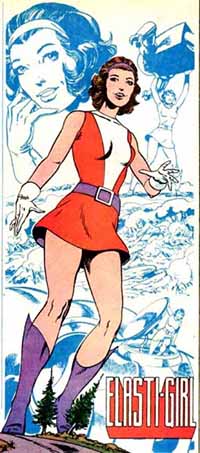 This character is in the following 57 stories which have been indexed by this website:

Challengers of the Unknown (vol. 1) #48 (Feb.-Mar. 1966): "Twilight of the Challengers"

The Doom Patrol

JLA #94 (Early May 2004): "The Tenth Circle, Part One: Suffer the Little Children"

My Greatest Adventure

Suggested links for further research about this character and the character's religious affiliation:
- http://www.comicvine.com/elasti-girl/29-4088/
- http://www.dcuguide.com/who.php?name=elastigirl
- http://www.dcuguide.com/chronology.php?name=elastigirl
- http://www.imdb.com/character/ch0057756/
- http://en.wikipedia.org/wiki/List_of_Doom_Patrol_members
- http://www.rpi.edu/~bulloj/Doom_Patrol/mga80.html
- http://dc.wikia.com/wiki/My_Greatest_Adventure_Vol_1_80
- https://www.comics.org/issue/17704/
- http://comicbookdb.com/issue.php?ID=26678