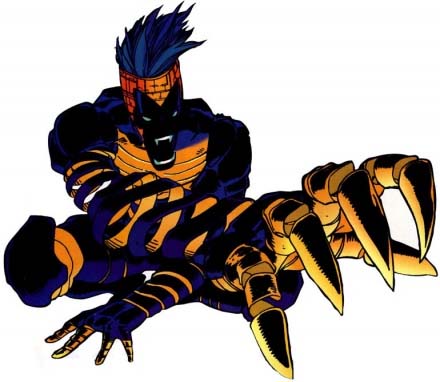 The Religious Affiliation of


Abyss


Nils Styger

Religion: Nihilist

Name: Abyss
Alter Ego: Nils Styger
Publisher(s):

First Appearance: (Age of Apocalypse) X-Men: Alpha #1 (Feb 1995); (Nils, "mainstream" continuity) Cable (vol. 1) #40 (Feb. 1997): "Into the Dark"; (as "Abyss") Uncanny X-Men (vol. 1) #402 (Feb. 2002): "Utility of Myth"
Creators: Scott Lobdell, Mark Waid, Roger Cruz, Steve Epting
Super? (Has Super Powers/Special Abilities/Technology): Yes
Number of Appearances: 17
Teams/Affiliations: Neyaphem; The Horsemen of Apocalypse; X-Cell
Worked for: Apocalypse
Gender: male
Note: son of Azazel (Satan-like mutant)
Abyss was a important character in the "Age of Apocalypse" (AoA) storyline, a major crossover event that encompassed most Marvel Universe comics, especially X-Men titles. In the Age of Apocalypse alternative timeline, Abyss was a caretaker of a quarter of Apocalypse's nation.
In the Age of Apocalypse, Abyss was explicitly depicted as a Nihilist with a warped sense of humor.
Abyss first appeared during the Age of Apocalypse storyline. It was only after the evil Age of Apocalypse version was seen that a more heroic version of the character was introduced in mainstream continuity. Two years after the AoA version of the character first appeared, Abyss first appeared in mainstream Marvel continuity simply as "Nils Styger" in Cable #40 (Feb. 1997), written by Todd DeZago, with art by Scott Clark and Chris Carlson.
The extent to which this Nihilist aspect (or perhaps "potential aspect") of Abyss's character is manifest in the "mainstream" (Earth 616) version of the character is a subject which should be explored further. As far as we know, "mainstream" Abyss has not been explicitly identified as a Nihilist, but given the character's name and AoA depiction, there is probably at least a bit of a nihilist in him. In any case, the AoA version of the character remains at least as important overall as the non-AoA version, who has had relatively few appearances and who was de-powered on M-Day (when the Scarlet Witch's power caused most of Earth's mutants to change into regular powerless humans).
This character is in the following 16 stories which have been indexed by this website:

The Amazing X-Men

Cable (vol. 1) #40 (Feb. 1997): "Into the Dark"

Uncanny X-Men

X-Factor

X-Men: Alpha #1 (Feb. 1995): "Beginnings..."

Suggested links for further research about this character and the character's religious affiliation:
- http://en.wikipedia.org/wiki/Abyss_(comics)
- http://www.marvel.com/universe/Abyss_(Age_of_Apocalypse)
- http://marvel.wikia.com/Nils_Styger_(Earth-295)
- http://www.marveldirectory.com/individuals/a/abyssaoa.htm
- http://comicbookdb.com/character.php?ID=6784
- http://comicbookdb.com/character.php?ID=8705
- http://www.marvunapp.com/master/aaac.htm
- http://www.comicboards.com/marvelguide/ageofapocalypse.html
- http://www.marvunapp.com/master/x0xaxl.htm
- https://www.comics.org/issue/247659/
- http://comicbookdb.com/issue.php?ID=5444
- http://marvel.wikia.com/X-Men:_Alpha_Vol_1_1
- https://www.comics.org/issue/59975/
- https://www.comics.org/issue/84172/