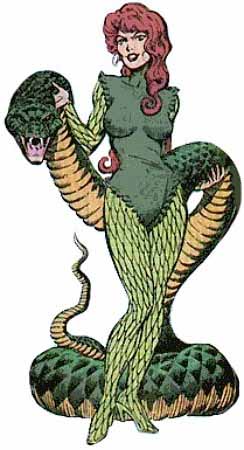 Princess Python


Zelda DuBois

Religion: not determined yet

Name: Princess Python

Alter Ego: Zelda DuBois

Classification:

villain
Publisher(s):

First Appearance: The Amazing Spider-Man (vol. 1) #22 (Mar. 1965): "The Clown, and His Masters of Menace!"
Creators: Stan Lee, Steve Ditko
Super? (Has Super Powers/Special Abilities/Technology): Yes
Number of Appearances: 93
Teams/Affiliations: Circus of Crime; Femizons; Serpent Society; Serpent Squad
Occupation: circus performer, criminal
Nation: USA
Birth Place: Darlington, South Carolina, USA
Gender: female
A second incarnation of the Serpent Squad appeared in Captain America #s 180-182, comprised of Viper (Dixon), the Eel, Princess Python, Cobra and Krang. The group tried to use the Serpent Crown to take over the world.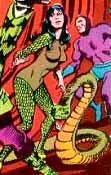 This character is in the following 36 stories which have been indexed by this website:

The Amazing Spider-Man

The Avengers (vol. 1) #22 (Nov. 1965): "The Road Back"

Captain America

Daredevil

Dark Reign: Young Avengers

Doctor Doom and the Masters of Evil

Marvel Comics Presents (vol. 1) #97 (Late Feb. 1992): "Where Everybody Knows Your Alias"

The New Avengers (vol. 2) #7 (Feb. 2011): "Avengers Assemble: The Oral History of the Earth's Mightiest Heroes: Chapter 14"
(1-panel cameo)

Power Man #25 (June 1975): "Crime and Circuses"

Punisher War Journal (vol. 2) #16 (Apr. 2008): "The Survivors Guild"

Thunderbolts (vol. 1) #2 (May 1997): "Deceiving Appearances"

Suggested links for further research about this character:
- http://www.comicvine.com/princess-python/29-10859/
- http://www.marvel.com/universe/Circus_of_Crime
- http://www.marvunapp.com/master/praprn.htm
- http://darkmark6.tripod.com/howard_the_duck_index.html
- https://www.comics.org/issue/32356/
- http://www.comicboards.com/marvelguide/p2.html