The Religious Affiliation of


Bullseye


Benjamin Poindexter

Religion: Catholic (nominal); nihilist

Name: Bullseye
Alter Ego: Benjamin Poindexter
Other Names: Hawkeye; Lester; Bullseye II; Leonard; Benjamin Pondexter; Ben Pondexter; Pigseye; Mr. Pondexter
Classification:

villain
Publisher(s):

First Appearance: Daredevil (vol. 1) #131 (Mar. 1976): "Watch Out For Bullseye, He Never Misses!"
Creators: Marv Wolfman, Bob Brown, Klaus Janson
Number of Appearances: 243
Comic Book Appearances: 239
TV, Film Appearances: 2
Video Game, Computer Game Appearances: 2
Teams/Affiliations: The Thunderbolts; Dark Avengers
Foe of: Daredevil
Occupation: assassin, athlete, mercenary
Worked for: The Kingpin, Eric Slaughter
Race: white
Gender: male
Note: former baseball pitcher
Since his introduction, Bullseye was primarily been known only by his codename: "Bullseye." He we was sometimes referred to as "Lester," and sometimes by some other names, including "Benjamin Poindexter." It was not clear which of these, if any, was his actual birth name. These may have been aliases.
The "Ares War Plan Transcript" text-based story (or dialogue, really) published in Siege #1 (Mar. 2010) explicitly identifies Bullseye's name as "Benjamin Poindexter." While this may not be "proof" that this is Bullseye's actual birth name, it is presented as an official document prepared by U.S. government authorities with the highest possible security access. We have decided to use this name - "Benjamin Poindexter" - in the "real name" field for Bullseye.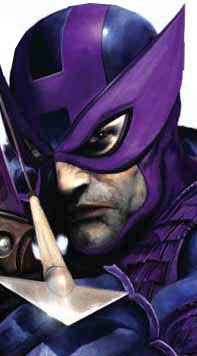 This character is in the following 127 stories which have been indexed by this website:

The Amazing Spider-Man

Assassins #1 (Apr. 1996): "Political Suicide"
(character based on)

Avengers Assemble (vol. 1) #1 (July 2010)

Bullseye: Greatest Hits #1 (Nov. 2004): "Part One: The Last Place On Earth"
(lead character)

Captain America

Captain America: The Legend #1 (Sep. 1996)

Civil War: Battle Damage Report #1 (Mar. 2007)

Daredevil

The Daredevils

Dark Avengers

Dark Avengers/Uncanny X-Men: Exodus #1 (Nov. 2009): "Utopia: Conclusion"

Dark Avengers/Uncanny X-Men: Utopia #1 (Aug. 2009): "Utopia: Part 1"

Dark Reign Files #1 (Apr. 2009)

Dark Reign: The List - Avengers #1 (Nov. 2009)
(3-panel cameo)

Dark Reign: Young Avengers

Dark Wolverine

Dark X-Men

Dark X-Men: The Beginning

Deadpool (vol. 3) #900 (Dec. 2009): "One Down"
(1-panel cameo)

Elektra

Heroes for Hire (vol. 2) #2 (Nov. 2006): "Taking it to the Streets, Part 2"
(photo/picture/video)

I [heart] Marvel: Outlaw Love #1 (Apr. 2006): "Outlaw Love Means Never Having to Say You're Sorry"

Identity Disc

Marvel Knights 4 #24 (Jan. 2006): "Impossible Things Happen Every Day, Part 2"
(photo/picture/video)

Marvel Knights Spider-Man #18 (Nov. 2005): "Wild Blue Yonder: Conclusion"
(mentioned)

Marvel Knights: Millennial Visions #1 (Feb. 2002): "The Accurate Assassin"
(lead character)

Marvel: Ultimate Alliance (24 Oct. 2006)

Moon Knight Saga (Oct. 2009)
(mentioned)

Ms. Marvel

The New Avengers

Punisher (vol. 8) #1 (Mar. 2009): "The Punisher Saga"

Thunderbolts

Thunderbolts: Desperate Measures #1 (Sep. 2007): "Desperate Measures"

Uncanny X-Men

Vengeance of the Moon Knight #1 (Nov. 2009): "Shock and Awe: Chapter 1: The White Knight"
(photo/picture/video)

Suggested links for further research about this character and the character's religious affiliation:
- http://www.imdb.com/character/ch0005581/
- http://en.wikipedia.org/wiki/List_of_Thunderbolts_members
- http://www.comicvine.com/bullseye/29-4647/
- http://www.marvunapp.com/master/bsbul.htm
- http://www.comicboards.com/marvelguide/b3.html
- http://www.comicboards.com/marvelguide/ageofapocalypse.html
- http://www.marvel.com/news/comicstories.6225.Bullseye~apos~s_Targets~colon~_T-Bolts_%26_Moon_Knight
- http://www.marvunapp.com/master/pi.htm