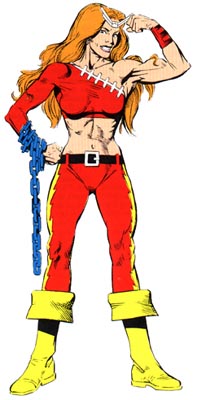 The Religious Affiliation of


Thundra


Religion: female supremacist (Femizonian)

Name: Thundra
Publisher(s):

First Appearance: Fantastic Four (vol. 1) #129 (Dec. 1972): "The Frightful Four - Plus One"
Creators: Roy Thomas, John Buscema, Joe Sinnott
Super? (Has Super Powers/Special Abilities/Technology): Yes
Number of Appearances: 88
Teams/Affiliations: Code Red; Grapplers; Lady Liberators; The Avengers; The Frightful Four
Occupation: queen, ruler, warrior, wrestler
Worked for: Roxxon
Nation: The United Sisterhood Alliance, Earth-Femizonia
Gender: female
Note: Empress of Femizonia; member of alt. universe Avengers
Queen of the Polemachus Empire.
This character is in the following 19 stories which have been indexed by this website:

Avengers

Captain America (vol. 1) #391 (Early Sep. 1991): "No Man's Land"
(photo/picture/video)

Fantastic Four

Hulk

Hulk Family: Green Genes #1 (Feb. 2009): "Hulk Family Tree"

Hulk: Raging Thunder

Marvel Age Annual #1 (Jan. 1985)

Marvel Two-in-One (vol. 1) #56 (Oct. 1979): "The Pegasus Project, Part Four: The Deadlier of the Species!"
(lead character)

The Mighty Avengers

She-Hulk Vol. 7: Here Today... (Mar. 2009): "Cosmic Collision"

She-Hulk: Cosmic Collision #1 (Feb. 2009): "Cosmic Collision"

Suggested links for further research about this character and the character's religious affiliation:
- http://en.wikipedia.org/wiki/Thundra
- http://www.comicvine.com/thundra/29-7235/
- https://www.comics.org/issue/25728/
- http://comicbookdb.com/issue.php?ID=28475
- http://www.comicboards.com/marvelguide/dimensions.html
- http://www.marvunapp.com/master/thosthz.htm