The Religious Affiliation of


Gambit


Remy LeBeau

Religion: Cajun Catholic

Name: Gambit
Alter Ego: Remy LeBeau
Other Names: Remy Etienne LeBeau; Le Diable Blanc; Robert Lord
Classification:

hero
Publisher(s):

First Appearance: The Uncanny X-Men (vol. 1) #266 (Late Aug. 1990): "Gambit: Out of the Frying Pan"
Creators: Chris Claremont, Jim Lee
Super? (Has Super Powers/Special Abilities/Technology): Yes
Number of Appearances: 954
Comic Book Appearances: 889
TV, Film Appearances: 55
Video Game, Computer Game Appearances: 10
Teams/Affiliations: Horsemen of Apocalypse; The Marauders; Weapon X (Exiles); X-Men; X-Ternals; X-Treme Sanctions Executive
Occupation: thief
Birth Place: New Orleans, Louisiana, USA
Race: white
Gender: male
Gambit is overtly as a Catholic, although he is not always a Catholic who is orthodox in his practice.
There is much overtly Catholic lore in Gambit stories. One excellent example of this is the second Gambit limited series, in which Gambit steals the Cross of Redemption from Miami mobsters and returns it to the Vatican.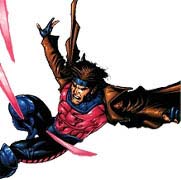 This character is in the following 244 stories which have been indexed by this website:

The Adventures of the X-Men #12 (Mar. 1997): "Better to Light a Small Candle..."

The All New Exiles Vs. X-Men

The Amazing X-Men #4 (June 1995): "On Concencrated Ground"

Avengers Academy #38 (Dec. 2012): "Crosstown Rivals"

Bishop #4 (Mar. 1995): "Final Reckonings"

Black Panther (vol. 4) #8 (Nov. 2005): "Wild Kingdom 2 of 4: House of Paine"

Contest of Champions II

Daredevil (vol. 1) #330 (July 1994): "Disinfomocracy"

DC/Marvel All Access #2 (Early Jan. 1997): "Two Sides of the Same Coin"

Excalibur

Gambit & Bishop: Sons of the Atom

Gambit

Gambit and the Champions: From the Marvel Vault #1 (Oct. 2011)
(lead character)

Marvel Universe: The End #1 (May 2003): "Predestination"

Marvel: Ultimate Alliance (24 Oct. 2006)

Maximum Security #3 (Jan. 2001): "Whatever the Cost!"

New X-Men

Rogue

Spider-Man Team-Up #5 (Dec. 1996): "Crescent City Memories"
(lead character)

The Uncanny X-Men

Wolverine/Gambit: Victims

X-Factor

X-Force Annual

X-Men

X-Men and Captain Universe #1 (Dec. 1994): "Sleeping Giants"

X-Men Forever

X-Men Unlimited

X-Men: Age of Apocalypse One-Shot #1 (May 2005): "[pin-up 3]"

X-Men: Alpha #1 (Feb. 1995): "Beginnings..."

X-Men: Black Sun #4 (Nov. 2000): "Fourth Spell: Light the Fire!"

X-Men: Legacy

X-Men: Liberators #4 (Feb. 1999): "Gifted Youngsters"
(cameo)

X-Men: Millennial Visions 2001

X-Treme X-Men

X-Treme X-Men: Savage Land #1 (Nov. 2001): "Savage Genesis"
(hallucination)

X-Treme X-Men: X-Pose

Suggested links for further research about this character and the character's religious affiliation:
- http://www.adherents.com/lit/comics/Gambit.html
- http://www.comicvine.com/gambit/29-1499/
- http://www.imdb.com/character/ch0060813/
- http://www.marvunapp.com/master/gam.htm
- http://www.marvunapp.com/master/maramart.htm
- http://www.marvunapp.com/master/x0xmxz.htm
- http://www.comicboards.com/marvelguide/g.htm
- http://www.comicboards.com/marvelguide/ageofapocalypse.html
- http://www.marvunapp.com/master/xaxz.htm
- http://www.marvunapp.com/master/crjcrt.htm