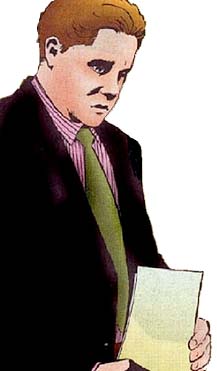 The Religious Affiliation of


Foggy Nelson


Religion: Episcopalian

Name: Foggy Nelson
Other Names: Franklin P. "Foggy" Nelson
Classification:

supporting character
Publisher(s):

First Appearance: Daredevil (vol. 1) #1 (Apr. 1964): "The Origin of Daredevil"
Creators: Stan Lee, Bill Everett, Steve Ditko, Sol Brodsky
Number of Appearances: 488
Comic Book Appearances: 487
TV, Film Appearances: 1
Ally: Daredevil
Occupation: attorney
Location: New York City, New York, USA
Race: white
Gender: male
Note: law partner of Matt Murdock (Daredevil)
Foggy Nelson was once targeted by criminals and in order to better hide from them, he worked with the FBI to fake his own death and go into hiding. While he was hiding in FBI protection, he used the name "Everett Williams." This name pays homage to Bill Everett, the co-creator of the Daredevil and Foggy Nelson characters.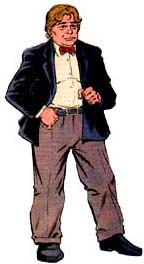 This character is in the following 311 stories which have been indexed by this website:

Captain America (vol. 1) #234 (June 1979): "Burn, Cap, Burn!"
(4-panel cameo)

Daredevil / Deadpool Annual '97 (Sep. 1997): "Whomsoever Fights Monsters..."

Daredevil

Daredevil/Spider-Man

Daredevil: Father

Daredevil: Redemption #1 (Apr. 2005): "Redemption, Part 1"

The Daredevils

Fantastic Four

Giant-Size Defenders #5 (July 1975): "Quoth the Nighthawk, "Nevermore!""

Heroes for Hire (vol. 1) #1 (July 1997): "Heroes and Villains"
(1-panel cameo)

Marvel Age Annual #1 (Jan. 1985)

Marvel Fanfare (vol. 1) #1 (Mar. 1982): "Snow"

Marvel Team-Up (vol. 1) #25 (Sep. 1974): "Three Into Two Won't Go!"

Marvel Treasury Special, Giant Superhero Holiday Grab-Bag (1974): "In Mortal Combat with Sub-Mariner!"

Marvel Two-in-One (vol. 1) #3 (May 1974): "Inside Black Spectre!"

The New Avengers

Silver Sable and the Wild Pack

The Spectacular Spider-Man (vol. 1) #240 (Nov. 1996): "Walking Into Spiderwebs"

Untold Tales of Spider-Man Annual '97 (1997): "It's Always Darkest..."

The X-Men (vol. 1) #46 (July 1968): "The End of the X-Men!"

Suggested links for further research about this character and the character's religious affiliation:
- http://www.adherents.com/lit/comics/Foggy_Nelson.html
- http://www.imdb.com/character/ch0005584/
- http://www.comicvine.com/foggy-nelson/29-3124/
- http://www.comicboards.com/marvelguide/n.htm
- http://www.marvunapp.com/master/nelner.htm