Religion: atheist

Name: Giant-Man
Alter Ego: Hank Pym
Other Names: Ant-Man; Giant-Man; Giant Man; Goliath; Yellowjacket; Dr. Pym; Wasp II; Henry J. Pym; Henry "Hank" Pym; Yellowjacket I; Henry Pym Sr.; Behemoth; Iron Giant; Gigantus
Classification:

hero

scientist
Publisher(s):

First Appearance: Tales to Astonish (vol. 1) #27 (Jan. 1962): "The Man in the Ant Hill!"
Creators: Stan Lee, Larry Lieber, Jack Kirby, Dick Ayers
Super? (Has Super Powers/Special Abilities/Technology): Yes
Number of Appearances: 1,543
Comic Book Appearances: 1,524
TV, Film Appearances: 17
Video Game, Computer Game Appearances: 2
Teams/Affiliations: Commission on Superhuman Activities; Secret Defenders; The Avengers; The Defenders; The Liberators
Enemy of: Ultron, J.B. Desalvio
Ally: The Wasp (Janet Van Dyne)
Occupation: scientist
Birth Place: Elmsford, New York, USA
Race: white
Gender: male
BELOW: Thor calls Hank Pym's scientific achievement "miraculous": There is a certain irony in this scene. Thor, who is an actual deity, the Norse god of thunder, sees Hank Pym (Ant-Man) and Janet Van Dyne (the Wasp) change from insect-sized to human-sized, and then hears Dr. Pym explain his invention - the pills that allow them to change size. Thor calls this scientific achievement "miraculous." This could be viewed as an interesting inversion of the standard use of this word, in which a scientifically unexplainable and presumably divinely-caused event is referred to as "miraculous" or a "miracle."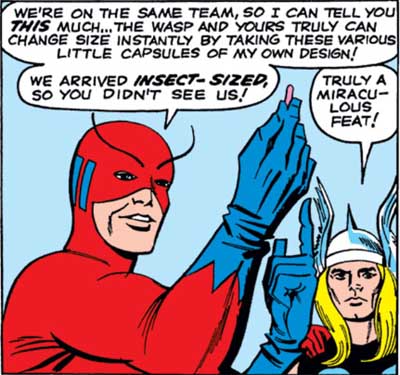 Source: The Avengers (vol. 1) #2 (Nov. 1963): "The Avengers Battle... the Space Phantom", pg. 2, panel 4. Written by Stan Lee. Art by Jack Kirby, Paul Reinman. See also: miracles; Thor (Donald Blake); Giant-Man (Hank Pym)