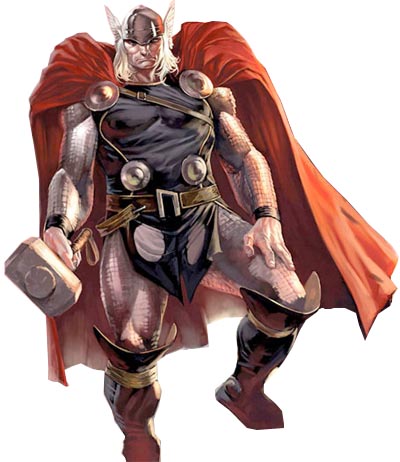 The Religious Affiliation of


Thor


Donald Blake

Thor is best known as a Marvel Comics character. He might best be said to have been "adapted" by Marvel comics creators Stan Lee, Larry Liebe and Jack Kirby, rather than "created" by them, because the character was already in existence for centuries as a member of the traditional Norse/Teutonic pantheon.

Because the mythological Thor is a public domain character and does not belong only to Marvel Comics, he has appeared in comics from other publishers as well. For example, he was one of many minor deities in Neil Gaiman's Sandman. Also, he appeared in DC Special #4: Thirteen Shock Ending Stories (Sep. 1969).

Thor was depicted as a villain and an enemy of the superhero Supreme and the heroic team Youngblood in Image Comics. Thor's first appearance in the Image universe was in Supreme (vol. 2) #5 (Aug. 1993)

Thor is occasionally categorized as a "thunder god", alongside other thunder gods, including the Sioux god Haokah.

Thor's hammer Mjolnir is one of the world's most famous weapons. The hammer was created by the dwarfs Etri and Brokk and then enchanted by Odin himself. Before any other Asgardian characters or elements of Asgardian myth, Mjolnir appeared first in Marvel's Thor mythos, right alongside Thor himself, in Journey Into Mystery #83 (Aug. 1962).

Years after the introduction of Mjolnir, Thor (vol. 2) #80 revealed how the "Mjolnir Forge" was used in the creation of Thor's mighty hammer. This forge was cast into the Gunin Gap by Brok, Buri and Etri after they used it to create Mjolnir. But Loki retrieved the Mjolnir Forge and gave it to Odin's enemy Surtur. Surtur used the forge to create powerful hammers for a number of Asgard's enemies.
Excerpts