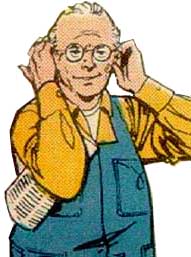 The Religious Affiliation of


Jonathan Kent


Religion: Methodist

Name: Jonathan Kent
Other Names: John Kent; Pa Kent
Classification:

supporting character
Publisher(s):

First Appearance: Superman (vol. 1) #1 (Summer 1939): untitled 2-page Superman origin story
First Appearance (Additional Details): (mentioned, unnamed) Action Comics (vol. 1) #1 (June 1938): untitled 1-page Superman origin story; (as John Kent) Superman (vol. 1) #1 (Summer 1939): untitled 2-page Superman origin story
Creators: Jerry Siegel, Joe Shuster
Number of Appearances: 816
Comic Book Appearances: 604
TV, Film Appearances: 212
Occupation: farmer
Race: white
Gender: male
Note: Superman's adoptive father
Jonathan Kent, the Earthly adoptive father of Superman, is one of the most widely known supporting characters in all of comicdom. "Pa Kent," as he has often been known, has always been portrayed as a deeply moral, ethical "salt-of-the-Earth" farmer whose strong fatherly influence helped shape Clark Kent into the admirable hero he became.
With his wife Martha, Jonathan was a member of the local Methodist congregation in Smallville.
Both Jonathan and Martha instilled their morally conservative Protestant Christian value in their adopted son. On many occasions, both parents have expressed their faith in God and their belief in the teachings of the Bible. But while Martha was a weekly churchgoer, Jonathan was not. As best as can be determined, Jonathan rarely attends weekly church services.
In general, conventions of the genre limited overt expressions of religiosity. Most of the Kent family's religious discussion and practice occurred "off-panel." Beyond that, what can be gleaned from literally hundreds of stories featuring the character suggests that Jonathan Kent rarely talks about specifically denominational topics or overtly religious doctrines. Instead, he prefers to counsel his son about the values, ethics and morality that stem from this deeply held convictions. Furthermore, Jonathan Kent's actions - including his unwavering devotion to family as well as the inspirational way he treats his neighbors - express his beliefs more than his simple homespun words ever could.
There have been countless (mostly subtle) variations in the way Jonathan Kent has been portrayed in the more than six decades of the character's existence. Throughout all these portrayals of the character, no religious affiliation for the character other than Methodism has ever been suggested in any published comic, novel, film, radio show or TV episode. Only rarely has the character's denominational affiliation been mentioned by name in published stories. The character has almost always simply been portrayed as a mainstream Protestant, usually through visual and textual implication without use of words such as "Protestant" or "Christian."
A note about Jonathan Kent's "first appearance"
Jonathan Kent's character's first appearance is usually identified as being in Superman (vol. 1) #1 (Summer 1939). This is accurate if one is strictly speaking of the character's first on-panel appearance. But Jonathan Kent can realistically be said to have been mentioned in the very first Superman comic ever published. In the genre-defining classic Action Comics #1 (June 1938), Jonathan Kent was mentioned in the second panel on the very first page of Superman's first published appearance.
This panel is part of Superman's original one-page origin story. The text describes what happens after the "space-ship" carrying the infant Kal-El landed on Earth: "When the vehicle landed on Earth, a passing motorist, discovering the sleeping babe within, turned the child over to an orphanage."
The panel's tiny picture shows the headlights of Jonathan Kent's car (or truck) shining on the little space-ship. To be clear, Jonathan Kent is never mentioned by name in this story. This story doesn't even mention the fact that the motorist who brought the baby Kryptonian to the orphanage later raised him as his adopted son. But in the decades since this first story was published, countless retellings of Superman's origin have affirmed that this "passing motorist" was Jonathan Kent. Of course, we now know that Jonathan's wife Martha was there with him, but she wasn't mentioned in Action Comics #1.
This character is in the following 112 stories which have been indexed by this website:

Action Comics

Adventure Comics

The Adventures of Superman (vol. 1) #500 (Early June 1993): "Life After Death!"

Icon #16 (Aug. 1994): "Ain't No Such Thing as Superman"

Justice League of America

Justice Society of America

Lois & Clark: The New Adventures of Superman

The Man of Steel

Superboy

Superman

Teen Titans (vol. 3) #1 (Sep. 2003): "Teen Titans"

Suggested links for further research about this character and the character's religious affiliation:
- http://en.wikipedia.org/wiki/Jonathan_Kent_(fictional_character)
- http://www.imdb.com/character/ch0000217/
- http://www.comicvine.com/jonathan-kent/29-3617/
- http://www.dcuguide.com/who.php?name=jonathankentprec
- http://www.dcuguide.com/chronology.php?name=jonathankentprec
- http://www.dcuguide.com/who.php?name=jonathankent
- http://www.dcuguide.com/chronology.php?name=jonathankent
- https://www.comics.org/issue/293/
- http://comicbookdb.com/issue.php?ID=95